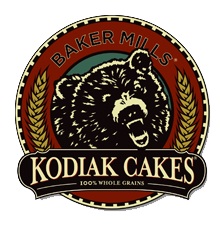 "Making pancakes is an art form, but with a great mix or the right ingredients, anyone can celebrate National Pancake Week with perfect pancakes." Joel Clark, Kodiak Cakes
Salt Lake City, UT (PRWEB) February 15, 2012
National Pancake Week is February 19-25. To celebrate, Kodiak Cakes, maker of Kodiak Cakes Frontier Flapjack and Waffle mix, shares 10 tips for perfect pancakes. With a great mix or the right ingredients, these 10 tips will make your pancakes too good to turn down:
Tip 1 – Never batter the batter. Batter should only be mixed enough to moisten the dry ingredients, then stop – even if you have lumps. Flour contains gluten – a gluey-like substance that activates when it gets wet and mixed. If over-mixed, it becomes tough and rubbery.
Tip 2 – Lay it on thin. Thinner batter gives the pancake a lighter texture, while thicker batter makes it more dense and heavy.
Tip 3 – What's in it for me? Stir-ins are a fun surprise. Try blueberries, bananas, cinnamon and vanilla, chocolate chips, or even sausage or bacon.
Tip 4 – Wait 'til I say "Go!" Be patient and let the griddle heat up for about five minutes. Too cool and your pancakes will turn out tough from cooking too long. Too hot and you'll end up with doughy centers. A few drops of water should dance around the griddle – 375 degrees is about right.
Tip 5 – Got rhythm? To look like a pro and make consistently shaped flapjacks, use a 1/3 or
1/4 measuring cup for each pancake.
Tip 6 – Don't muddle your puddle. Make a small puddle of oil on the griddle and pour the
batter directly into the middle. The oil will surround the edges and make them crispy and tasty.
Tip 7 – No double flipping! Flipping the pancake more than once causes a dry pancake.
The key is flipping the pancake at the right time. Pancakes are ready to turn when the top is full of air holes and the sides start looking a bit dry.
Tip 8 – Don't flatten the flippin' flapjack! This is the cardinal sin of flapjack flipping! A big misconception is that smashing the flapjack will help it cook faster. Not true. The hot air inside helps it cook better. Smashing it merely pushes the air out and undoes all of the work you did to create a perfectly light and fluffy pancake.
Tip 9 – Some like it hot! Actually, everyone does. If you are cooking for a large group and can't serve them hot off the griddle, the best way to keep pancakes warm is to place them, single-layered, on a cookie sheet in a warm oven.
Tip 10 – Don't short the stack. Never skimp on the toppings. Real butter, pure maple syrup, fresh berries, apple sauce, peanut butter, bananas, or all of the above.
Kodiak Cakes Frontier Flapjack and Waffle Mix, available nationwide, is the signature product of Baker Mills, a family-owned company based in Salt Lake City. Baker Mills is committed to using only 100 percent whole grains and all-natural ingredients in all of its products. Kodiak Cakes Frontier Flapjack and Waffle Mix was named among the "10 Foods that Rocked Our Tastebuds" by WeightWatchers.com and featured in Bon Appetit and Healthy Cooking. For more information or where to buy, visit http://www.kodiakcakes.com.
# # #