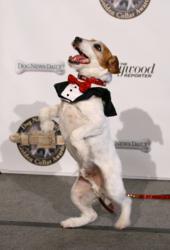 Los Angeles CA (PRWEB) February 15, 2012
The Original Rrruffler tuxedo bounded onto the scene Monday night at the Golden Collar Awards as Uggie, the scene-stealing canine star of The Artist trotted down the red carpet sporting an extra set of black and white tails.
The tux collar design Rrruffler, (as the product is known), is a prototype made especially for Uggie for the first annual Golden Collar Awards produced by Dog News Daily.
Rrruffler owner, Susanne Savage, was already working on the tux idea for her new pet products company when she saw The Artist and subsequently a photo of Uggie in a human-sized black bowtie for the Golden Globes.
"I absolutely adored Uggie in The Artist and thought he was a huge star. I felt he needed a special outfit for his red carpet events and was determined to rush a prototype into production for him." Savage delivered a high thread count all-cotton collar with real tuxedo pin tucks, red satin bowtie and petite tux buttons.
Not to be left behind, a second collar was created for Uggie's brother, Dash, this one with a black and cream colored polka dot tie. Uggie's owner, Omar Muller, seemed very pleased reported Savage. "Omar told me there were attempts to put Uggie in a tux already, but they were constricting around his body and paws, preventing him from doing his famous tricks on the red carpet. Rrrufflers don't have that problem because as lightweight elasticized neck-wear, dogs are free to be themselves."
Believing in the need for decorative pieces of pet clothing that make a fashion statement yet are easy to wear, Savage began Rrruffler with a few core ideas. "They had to be well made, easy to wear and great for all kinds of occasions." Savage continued, "I was sick of jamming my three rescue dogs' paws into ill-fitting, poorly made t-shirts. Rrrufflers are for every shape and sized dogs, from XS to XL and they're made right here in Los Angeles." Rrruffler is also developing several holiday and sports themed versions.
Now rushing into production after a successful launch of its prototype, Rrruffler hopes to have collars available for pre-sale on its website with delivery in the next few weeks. "It means a lot to me to have Uggie as the first dog in a real Rrruffler" says Savage. "We're moving to get the rest of our line together as soon as possible, because opportunities like an adorably talented celebrity dog wearing your product don't come around very often!"
Rrrufflers are made in Los Angeles and are a product of Rrruffler Inc., a Los Angeles based company founded in 2012 by entrepreneur Susanne Savage
###