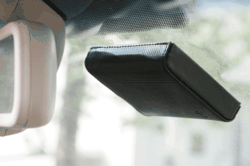 I-Pass holder fit for even the pickiest of drivers
Chicago, IL (PRWEB) February 16, 2012
Whether someone drives a brand new BMW, a Ferrari, or a beat up clunker, one thing is universal if they are lucky enough to drive anywhere near Chicago, New York City, or Boston, they have an ugly toll transponder hanging in their windshields. I-Pass, EZ-Pass, Fastlane Pass are all great, must-have devices but they are unattractive and happen to be in the most conspicuous location possible.
Several company have tried to create solutions but until recently, there have been only low-end plastic holders. Tonic Concepts, a New Jersey based company, saw the need to create a higher end, aesthetically pleasing, I-Pass holder that is perfect for even the pickiest of drivers. The fact that online shoppers are opting to buy their $15+ leather product, over significantly less expensive plastic alternatives, is testament that there is indeed a demand for a higher quality product.
Tonic Concepts currently produces 8 different styles of their I Pass holder and is planning to introduce additional designs, including collegiate logos, in the very near future. Their current product, the "T-Case" currently works as an I-Pass, Fastlane Pass, and EZ-Pass holder. A variation for California's FasTrak, is expected to be available March 2012.
Tonic Concepts is the only maker of premium I-Pass, Fastlane Pass, and EZ-Pass covers. The T-Case was featured in the January 12th 2012 edition of the Chicago Tribune. To learn more about Tonic Concepts, visit https://www.tonicconcepts.com.
###