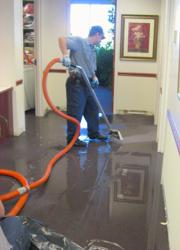 Leaky pipes, toilets, washing machines and even ice makers can cause thousands of dollars in damage in a very short amount of time.
--Dean Balthaser, owner and CEO of Premier Drying
(PRWEB) February 15, 2012
As an increasing number of vacant homes enter into foreclosure and the short sale process, the demand for water damage Atlanta restoration services is on the rise. Premier Drying, a leading provider of structure dying and restoration services in the Atlanta and Alpharetta areas, is working with real estate agents, banks, lenders and homebuyers to easily and cost effectively repair water damage.
The current housing crisis has left a greater number of homes abandoned, which puts them at great risk for water damage, explains Dean Balthaser, owner and CEO of Premier Drying. "Leaky pipes, toilets, washing machines and even ice makers can cause thousands of dollars in damage in a very short amount of time. This is especially common in vacant properties because the problem usually goes unnoticed until it's too late," says Balthaser. "Also, homes in foreclosure and short sale are often not heated, so they're also more likely to have pipes burst, water damage and dangerous mold growth."
Premier Drying has extensive experience providing homes in foreclosure and in the short sale process with water damage restoration services, including a recent job in an unoccupied, bank-owned property. "The bank, realtor and potential buyers were in the middle of the short sale process, but no one was living in the house so the problem went undetected for a while. When the realtor noticed it, the damage had already been done," says Balthaser. "Once we got the call, we responded within 30 minutes and began the drying process. Within 72 hours, we had the structure completely dry. And all of the repairs, including installing new drywall, kitchen cabinets and hardwood floors, were completed within three weeks. Our work and experience with water damage in Atlanta kept the bank, realtor and buyers happy, and they were able to proceed with the closing on the house right on schedule."
The water damage experts at Premier Drying are all certified by The Clean Trust, an independent certification body that sets and promotes high standards and ethics within the inspection, cleaning and restoration service industries. Premier Drying is also fully insured and licensed, and the leading water damage recovery company is referred by all major insurance companies in the United States. "We are good at what we do. We don't cut corners, and we do it right," says Balthaser.
If you have water damage in Atlanta, Balthaser and the experts at Premier Drying say there are a few steps you should take to preserve and protect your property from further damage:
Call Premier Drying. "We have a 30 minute response time for emergencies. As soon as you call, we get moving because we know that the longer water sits, the more damage it causes," says Balthaser. "And unlike a lot of other companies, you will always get a live person on the phone when you call Premier Drying for your water damage restoration service needs."
Shut off the water source. "Oftentimes, people panic and don't think to turn off the water, which just causes more damage. Look for the main water valve, which is usually in the basement, garage or at the sidewalk," says Balthaser.
Turn off electricity at the breakers in the affected rooms or areas. "Obviously, water and electricity are not a good mix, so turn off the electricity so you don't get electrocuted," warns Balthaser.
Place plastic or foil below furniture. "Get your furniture up as soon as possible. This will prevent your furniture from soaking up water, and it will also prevent rust or stains on your flooring," says Balthaser.
Pin up draperies and move valuables off the floor. "Don't let anything valuable sit because it can be damaged, and it may also leave a stain on the floor," says Balthaser.
About Premier Drying
Located in Alpharetta and servicing the entire Atlanta area, Premier Drying is a locally owned company that specializes in structure drying and restoration services. In business since 1998, Premier Drying has developed a stellar reputation as a reliable, customer-focused company. Premier Drying treats its customers with great respect and approaches each job with the highest level of professionalism – one that's made the company one of the largest of its kind. The company employs technicians who are properly trained and certified to perform the services needed, and all work is backed by a 100 percent customer satisfaction guarantee. For more information, visit http://www.premierdrying.com.
# # #