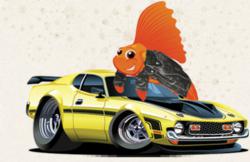 Sports Illustrated is still rockin' it! Year after year of jaw dropping Swimsuit Issues and this year is no different.
New York, New York (PRWEB) February 14, 2012
RoadFish.com men's lifestyle and finance magazine hails Kate Upton, this year's cover model of the Sports Illustrated Swimsuit Issue, as sexiest SI cover girl of all time. The 2012 SI Swimsuit Edition hit newsstands today, with 19-year-old Upton gracing the cover in a tiny red bikini. The annual SI Swimsuit issue is estimated to do over $35 million in advertising each year.
According Reuters, the SI Swimsuit Issue cover was leaked yesterday by Boston sports blog, Barstool Sports. The cover, initially intended to be revealed last night on "The Late Show with David Letterman," was published early by Barstool Sports. Site founder David Portnoy tweeted yesterday, "Wait, did we just leak the Kate Upton SI cover? We're so good we leak [stuff] and don't even know."
The blonde bombshell attended last week's ribbon-cutting ceremony to kick off Mercedes-Benz Fashion week at Lincoln Center. She gave no hints as to whether Sports Illustrated would use her for their Swimsuit issue cover, telling NY Post Page Six, "All I can really say is that I'm in the issue. Fingers crossed!"
The senior editor of Sports Illustrated, M.J. Day, told Reuters, "Every single girl we shoot has the opportunity to be on the cover, and it really comes down to who has the best picture. Whoever has that really special, jaw-dropping photo ends up on the cover." He told Reuters that Kate Upton "embodies sophistication and sexiness" that the annual SI Swimsuit Issue calls for.
RoadFish.com's editor stated, "Sports Illustrated is still rockin' it! Year after year of jaw dropping Swimsuit Issues and this year is no different. Kudos to Kate for going from one of the 2011 swimsuit rookies to the 2012 cover model. All the ladies in this issue are beautiful. 48 years and counting SI!""
Michigan-born Upton has modeled for Garage, Dooney & Bourke, Guess, Beach Bunny swimwear, and Victoria's Secret. She's had photo shoots featured in Complex and Esquire as well as acting in the feature film "Tower Heist," and episodes of Tosh.0 and the Three Stooges. Upton was first featured in a Sports Illustrated spread last year, and was named "Rookie of the Year" for the issue.
RoadFish.com's editor referred to Upton as the "single hottest woman ever to hit the face of Sports Illustrated's Swimsuit Issue," and declared that it "certainly is a happy Valentine's day for men out there today!"
The first Sports Illustrated Swimsuit issue was published in 1964, and is published annually in February featuring bathing suit-clad models posing in exotic sites. The 2005 SI Swimsuit issue did $35 million in advertising in that one issue alone. The 2012 Swimsuit Issue features 17 models photographed in Zambia, Australia, the Republic of Seychelles, Florida, and Panama. Recent cover models have included Irina Shayk, Brooklyn Decker, Bar Refaeli, and Marisa Miller.
About RoadFish.com
RoadFish.com is an online men's lifestyle and finance magazine targeted toward men in their 30's and 40's that have already attained a moderate level of success in life, and are striving toward more. It goes over current events of interest to this group, such things as exciting adventures, consumer interests,heroes, dating tips, as well as ways to make more and save more money. It is a publication owned by Purpose Inc.
###