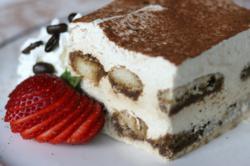 Vail, CO (PRWEB) February 15, 2012
Executive Chef Paolo Busi has prepared a unique and delightful menu for guests. Busi is a native of Florence, Italy and received his initial culinary training and cooking experience in Tuscany. Guests, having brushed- up on their Italian language skills may relish in this beautiful culinary experience.
The Beginning
Guazzetto di Cozze e Gamberi
Con Garlic Brushcetta
The Pasta
Penne Pasta
Con Radiccio, Walnuts and Cream Sauce
The Main Deal
Chicken Valdostana
Breast of Chicken with Prosciutto, Sage, Fontina Cheese, White Wine Cream Sauce
OR
Tonno Alla Griglia
OR
Grilled Veal Chop
Reduction of Port Wine, Wild Mushrooms, Fresh Herbs
The Finale
Homemade Tiramisu
Tiramisu is made of Savoiardi (specialty lady fingers) dipped in coffee or espresso, layered with a whipped mixture of egg yolks, mascarpone cheese and flavored with liquor and cocoa.
Diners may pair selections with Alpine Taverns fabulous wines. Alpine's wine cellar presents wonderful choices including reasonably priced Napa, Sonoma, Italian, and other international wines perfect for guests special celebrations. For the connoisseur, Alpine Tavern has an excellent selection of fine French and American wines.
Alpine Tavern's international staff delivers, in the words of customers "awesome service". Dining is a unique experience not just a meal. Guests will be recognized at Alpine's entrance as a valued individual.
Diners can continue their mountain experience at the Alpine Tavern. Soaring ceilings, a roaring fire, dramatic lighting and alpine views result in Vail's premier mountain setting. White linen tablecloths, fine silver, crystal and crockery frame every meal. Experience a diverse and dramatic world of dining at the Alpine Tavern. The dining room, the Edelweiss, presents a casual, but elegant ambiance.
Check out the Alpine Tavern's new selections and weekly music lineup in SneakPEAK Vail's event calendar or at http://www.sneakpeakvail.com.
The Alpine Tavern is not just Vail…..it's the best of Vail….the Vail you fell in love with. In East Vail 4695 Racquet Club Drive in East Vail. Open every day including Tuesdays! To make a reservations at the Alpine Tavern call 970-476-7888.
###