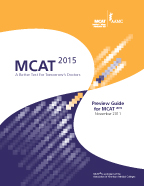 Being a good doctor is about more than scientific knowledge. It also requires an understanding of people.
Washington, D.C. (PRWEB) February 16, 2012
Starting in 2015, when aspiring doctors take the MCAT® examination, they will need more than a solid basis in the natural sciences. Under changes approved today by the AAMC (Association of American Medical Colleges), they also will need an understanding of the psychology, sociology, and biology that provide the foundation for learning about the human and social components of health.
The changes to the MCAT exam, the first since 1991, are designed to help students prepare for a rapidly changing health care system and an evolving body of medical knowledge while addressing the needs of a growing, aging, and increasingly diverse population.
"Being a good doctor is about more than scientific knowledge. It also requires an understanding of people. By balancing the MCAT's focus on the natural sciences with a new section on the psychological, social, and biological foundations of behavior, the new exam will better prepare students to build strong knowledge of the socio-cultural and behavioral determinants of health," said Darrell G. Kirch, M.D., AAMC president and CEO.
A new section, "Psychological, Social, and Biological Foundations of Behavior," will test the ways in which these areas influence a variety of factors including people's perceptions and reactions to the world; behavior and behavior change; what people think about themselves and others; cultural and social differences that influence well-being; and the relationships among socio-economic factors, access to resources, and well-being.
By testing what is taught in introductory psychology, sociology, and biology at many undergraduate institutions, this new section will examine concepts that provide a solid foundation for learning in medical school about the behavioral and socio-cultural determinants of health. The changes to the exam also recognize a growing body of evidence showing that integrating social and behavioral sciences into medical education curricula and clinical practice can improve the health of all patients.
In addition, a new "Critical Analysis and Reasoning Skills" section will test students' reasoning ability by having them analyze, evaluate, and apply information provided in passages from a wide range of social sciences and humanities disciplines, including ethics and philosophy, cross-cultural studies, and population health.
The revised exam also will include two natural sciences sections to test concepts typically taught in introductory biology, general and organic chemistry, biochemistry, and physics that medical school faculty, residents, and students rate as most important to the success of entering medical students. Building on the framework described by the report "Scientific Foundations for Future Physicians," these sections will ask test takers to combine knowledge of natural science concepts with their scientific inquiry and reasoning skills to solve problems that demonstrate their readiness for medical school.
In another major change, the exam will no longer include a writing section. Feedback from admissions officers and other data revealed that this section offered little additional information about applicants' preparation for medical school, particularly relative to the insights gained from undergraduate grades and the other sections of the exam. With all the revisions to the test, the length of the exam will increase to about six and a half hours.
Sample questions and a detailed list of concepts and topics covered by the new exam are provided in a "Preview Guide for MCAT2015." In addition, a number of resources are posted on the AAMC Web site to help students, undergraduate faculty, and pre-health advisors prepare for the exam, including an informational video featuring students describing the new exam and giving tips for preparation. The AAMC will continue to provide new resources on its Web site as they become available.
The changes to the MCAT exam were developed by a 21-member advisory panel, the MR5 Advisory Committee, appointed by the AAMC in 2008 to review the exam, which is used for admission to medical school as well as by some other health professions including osteopathy, podiatry, and veterinary medicine. The final recommendations are the product of an extensive, three-year period during which the MR5 committee gathered input from stakeholders at more than 90 outreach events, solicited expert input from blue-ribbon committees and advisory groups, and reviewed more than 2,700 informational and opinion surveys from undergraduate and medical school faculty, administrators, residents, and medical students.
The revisions to the MCAT exam are part of a broader effort by the AAMC and the nation's medical schools to improve the medical school admissions process. Through efforts such as holistic review and the development of tools to help admissions committees assess the personal characteristics of applicants, medical schools are working on new and better ways to assess prospective medical students on criteria beyond traditional academic predictors of success.
The Association of American Medical Colleges is a not-for-profit association representing all 136 accredited U.S. and 17 accredited Canadian medical schools; nearly 400 major teaching hospitals and health systems, including 62 Department of Veterans Affairs medical centers; and nearly 90 academic and scientific societies. Through these institutions and organizations, the AAMC represents 128,000 faculty members, 75,000 medical students, and 110,000 resident physicians. Additional information about the AAMC and U.S. medical schools and teaching hospitals is available at http://www.aamc.org/newsroom.
###