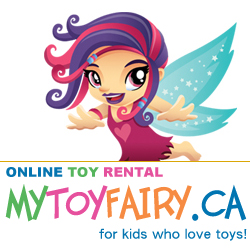 The past few years have witnessed an increase in mommy groups and toy exchanges. We thought to ourselves, why not take it one step further and offer parents more choice and less hassle?" said My Toy Fairy Founder Ohad David. "Our services are an ideal fit
Vancouver, BC (PRWEB) February 15, 2012
My Toy Fairy, a Canadian toy rental company dedicated to providing parents with greater value, announced today the opening of their Vancouver Toy Rentals. With an unparalleled selection for toys, My Toy Fairy is unique in that it provides service to the entire lower mainland of British Columbia.
My Toy Fairy is the "Netflix" of toys. Members visit mytoyfairy.ca and choose a playtime package of 4, 6 or 8 toys. They fill their "toy cart" with the toys they wish to receive now and in the future and toys are shipped right to their door. After 30 days parents can trade out some or all of the toys for ones in their toy cart. When toys are returned to us they are thoroughly sanitized with effective environmentally friendly cleaners, sealed and shrink wrapped. This process makes the toys literally cleaner than new.
Exposure to an always changing educational toy environment promotes enhanced cognitive development. Providing a large number of toys can cost several thousands of dollars a year. Ultimately, this is frustrating for parents as children quickly outgrow their toys. MyToyFairy.ca saves parents money and optimizes dollars spent for educational purposes by offering high quality toy rentals.
"We are delighted to provide our services throughout the greater Vancouver area," continued David. "At MyToyFairy.ca we take great pride in being the largest Vancouver toy rental provider in terms of number of toys offered and extent of our delivery area. Most importantly though, is that parents who rent toys at My Toy Fairy are helping their children develop, getting more for less, and helping the environment." 
About MyToyFairy.ca
Mytoyfairy.ca is British Columbia's go-to company for toy rentals. Mytoyfairy.ca saves parents time, money, and space, and helps the environment as well. With our friendly service and fabulous selection of the latest top-rated toys, Mytoyfairy.ca leaves kids AND parents with smiles on their faces. MyToyFairy.ca has an exclusive "GRIME-FREE" sanitation process, which means that its toys are thoroughly cleaned and sanitized and arrive to clients cleaner than if they were bought in a toy store.
# # #