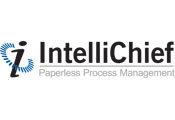 IntelliChief Mobile is available to all IntelliChief users who upgrade to IntelliChief version 3.3. For the first time, users can view documents stored in their IntelliChief system through their Apple®, Android™, or Windows® Mobile devices
Mansfield, MA (PRWEB) February 15, 2012
IntelliChief LLC, the leading provider of document management and document imaging solutions for the IBM I (System i, iSeries, AS/400), today announced the release of IntelliChief v3.3. This latest version of IntelliChief allows for access to your enterprise i Series, and other documents instantly, from any location, at any time. This is accomplished through the new IntelliChief Mobile functionality, now available.
"IntelliChief Mobile is available to all IntelliChief users who upgrade to IntelliChief version 3.3. For the first time, users can view documents stored in their IntelliChief system through their Apple®, Android™, or Windows® Mobile devices," said Michael Daebler, Vice President of Development at IntelliChief. "Also included in IntelliChief V 3.3 are significantly enhanced automatic routing capabilities as well as the ability to retrieve related documents within workflow. IntelliChief has been upgraded in an effort to help our customers achieve greater success."
Version 3.3 product enhancements include:

IntelliChief Mobile – Ability to perform search functions, access the IntelliChief Inboxes, and open all IntelliChief documents and document links from your Apple®, Android®, and Windows® Mobile Devices.
Workbench Document Viewer - New option for viewing documents in a workflow process as well as the ability to easily retrieve all related documents for a Workflow group.
User/Group Administration – Re-designed User/Group Administration user interface and Permission Administration user interface.
Workflow Routing Groups - Ability to perform automatic routing based on document modifiers and automatically route the document to additional approver levels.
Availability:
Release 3.3 is available immediately. Current customers can achieve significant savings and improvements in their business processes by taking advantage of the new release.
###