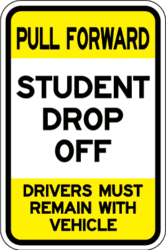 Many schools have already eased their morning congestion by using such signage to direct parents.
Gap, PA (PRWEB) February 14, 2012
Alphabet Signs, a respected supplier of school and traffic signs, is pleased to announce a bold, new STUDENT DROP OFF ZONE sign that is specifically designed to increase school safety and improve traffic flow in the typical school parking lot.
The new STUDENT DROP OFF ZONE sign clearly designates the intended use of the location at which students are to be dropped off for school. It becomes a continuous reminder and explanation of the purpose for a selected area and discourages other drivers from interfering with normal traffic flow. Traffic congestion is a major concern in and around schools, especially during drop-off and pick-up times of the day. Frustrated drivers, parents, teachers and student drivers who are rushed and running late can turn school parking lots into danger zones when traffic flow is not clearly explained and monitored.
The new STUDENT DROP OFF ZONE sign stands out against any background in bold yellow and white colors. Important instructions that tell parents to pull forward and remain in their vehicle are included in the yellow bands on the top and bottom of the rectangular sign. Built of heavy-gauge, sign-grade aluminum, these signs are designed for long life and minimal maintenance. They remain rust-free in all kinds of weather conditions.
Rounded corners and smooth edges prevent the posted drop-off sign from becoming hazardous to students, parents and other pedestrians. Because Alphabet Signs adheres strictly to standard FHA guidelines, each sign is also coated with 3M EGP for optimal reflectivity. Pre-punched holes make mounting easy and guarantee proper installation.
Alphabet Signs is aware that well-marked school zones are safer for students of all ages, and fewer fender-benders are a win-win situation for all concerned. The STUDENT DROP OFF ZONE sign is a cost-effective way to help everyone follow an efficient, well-designed drop-off plan. Daniel Keane, President of Alphabet Signs, stated, "Many schools have already eased their morning congestion by using such signage to direct parents to additional or relocated drop-off locations."
Well-placed school zone signs simplify the process of getting children to school safely and on time. Drivers who follow the instructions will pull their vehicles as far ahead as possible to maximize the number of cars who can unload students simultaneously. They are reminded to stay with their vehicle at all times so that they don't block traffic.
According to the web site Safe Routes To School, "Students are encouraged to exit only on the sidewalk side of the car. When parents are properly informed of the purpose and plan for the drop-off area, most comply willingly." Safe Routes To School is a collaborative effort of SRTS experts from around the country and support from the National Highway Traffic Safety Administration.
About Alphabet Signs
Alphabet Signs provides fast turnaround, expert service and great prices on 3000+ sign items in 50+ categories. Their quality signs have been hand picked by sign experts. Alphabet Signs has been in business over 20 years.
Contact: press(at)alphabetsigns(dot)com
# # #