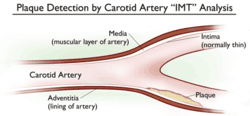 People have to take responsibility for their health as the best heart attack is the one that never happens
Calgary, AB (PRWEB) February 15, 2012
It is six weeks in from the New Year's resolutions. Somehow, Valentine's Day seems to an excuse to forget about those previous goals of a heart healthy lifestyle. People may stray from their goals of a heart healthy lifestyle to indulge is extravagant meals and sweet treats. It can give a lot of people license to disregard their goals completely and resort back to old habits. There's nothing like a gentle nudge or reminder at this point in the year to put people back on track. What better month than Heart and Stroke month to do that.
The Heart Fit Clinic is the leading cardiac rehabilitation and heart attack and stroke prevention clinic. They see people who have heart disease or the risk of developing heart disease and help them live prevent and reverse heart disease. They help patients reassess and redirect their goals to keep them on track with leading a heart healthy lifestyle.
The Heart Fit Clinic has a carotid IMT (Intima media Thickness) screening test that gives us a window to what might be going on in the heart. The carotid arteries are close to the surface of the skin, which makes it easy to obtain images. It is a simple ultrasound test that is safe, painless, accurate, quick, non-invasive and free of radiation that will let people know the risk of a heart attack or stroke.
Too many times individuals may be given a clean bill of health yet their risk of heart disease is still high. This test is not available at a family doctor's office. It will detect sub clinically what is going on inside the arterial walls. "Too many times people leave their health in their doctor's hands" says Diamond Fernandes, director of Heart Fit Clinic, adding, "People have to take responsibility for their health as the best heart attack is the one that never happens."
The Heart Fit Clinic is a private healthcare clinic where they are able to provide individuals with the time and attention to make a difference and reverse heart disease. Many doctor offices lack the luxury and ability to provide the time for patients to have their questions answered. This system can lead to missed information from doctors. Only 50% of the information is retained when leaving the doctors office. Doctors are teachers however from a business standpoint they have to see many people which decreases the amount of time spent with each patient.
Heart disease is preventable, but people have to know their risk. Once the Heart Fit Clinic determines their cardiovascular risk their elite programs are in place to reverse heart disease. They have the solution to prevent and even reverse this disease process. If patients are fortunate to live close to their clinics they can get assessed. However, if they are not, their Heart Disease Defense System is available on Heart Fit Clinic's website so that they can help anyone prevent and reverse heart disease. This DVD system will show everything patients have to know to handle heart disease with over 9 hours of content and a workbook to guide them through their practices.
###