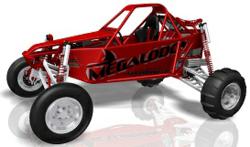 "No other DIY plans existed with a reverse, so we prototyped it."
Edmonton, Alberta (PRWEB) February 15, 2012
A void has been filled in the Do-It-Yourself off road vehicle market. Badland Buggy releases MEGALODON Sand Rail Construction Plans featuring an optional reverse gear box with a differential.
Badland Buggy's Founder & Product Design Manager, Bruce Hodder, stated "We saw a need in the DIY Sand Rail Plans market, how to build a motorcycle powered off road vehicle with a reverse. Motorcycles do not come with a reverse gear, and no other DIY plans existed with a reverse, so we prototyped it." Design and development on the MEGALODON prototype vehicle began in April 2011. Mr. Hodder adds, "With several months in the development stage of our new Modular Rear Drive System with an optional reverse gear box, I think we nailed it with this design, and more importantly, our customers will have even more build options available to them which were never commercially offered in DIY plans, before now."
Named after the largest, most aggressive predator to have ever existed, the Megalodon shark, Badland Buggy's MEGALODON Sand Rail Plans may also eat the competition. MEGALODON is an aggressive looking one seat motorcycle powered sand rail/dune buggy with a long travel suspension, rack & pinion steering system, high quality Porsche CV joint drive system and features an industry first, an optional Reverse Gear Box with a differential. MEGALODON construction plans include over 150 pages of highly detailed step-by-step instructions with measured drawings to guide the home builder through the entire process of building a vehicle from scratch.
MEGALODON is the 7th DIY product release from Badland Buggy since the company began in 2001. All DIY plans are named after prehistoric dinosaurs. Badland Buggy got its' name from the "Badlands" of southern Alberta near Drumheller, Alberta, an area world famous for dinosaur bone discoveries, and where the company tested its' first prototype vehicle named SABRETOOTH.
Badland Buggy is an online retailer of Do-It-Yourself off road vehicle construction plans. Badland Buggy are experts in the conceptual 3D design, vehicle prototyping & DIY plans development for the home off road vehicle builder market. Badland Buggy uses 3D CAD software (Autodesk Inventor) and good old fashioned hands on fabrication "know-how" to develop unique vehicle designs.
# # #