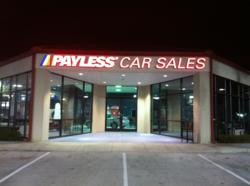 I am thrilled that our Payless store is officially open for business. - Scott Dance
Orlando, FL (PRWEB) February 16, 2012
Payless® Car Sales, Inc., America's Used Car Company®, and Scott Dance of Bob Dance Imports, Inc. are pleased to announce the Grand Opening of Payless' newest franchise store in the Orlando, Florida suburb of Sanford. The Grand Opening takes place on Presidents Day, Monday February 20, 2012.
The dealership is the first Payless store to open under the new Sales, Service, and Rental platform. The store is located at 3575 N. Hwy 17-92, Sanford, FL 32773 and is the first of five Payless locations Mr. Dance has planned for Orlando and the surrounding metropolitan area.
Mr. Dance's Sanford store is billed as central Florida's "New Car Alternative" selling quality pre-owned vehicles under the recently introduced Payless Assurance Certified Pre-Owned (CPO) program. The Payless Assurance program allows customers to buy with confidence, and is the key to customers getting more value for their money and mile after mile of carefree driving. The program includes a 125-point quality assurance inspection, free vehicle history report, limited warranty, travel breakdown protection, rental car coverage and roadside assistance.
The Payless Auto Service Center is a beautiful facility open for business and ready to accommodate all of the automotive repair and service needs of the residents of central Florida. Payless works on nearly every make and model of vehicle on the road using ASE Certified mechanics, and whether it is taking care of routine maintenance or tackling tough repair problems Payless delivers quality and value to the customer.
The Payless® Car Rental operation, opening in March, will offer daily rentals for the ultimate in customer convenience and satisfaction. Customers who will benefit from this convenience include those who have:

a vehicle in the store's Payless Auto Service Center
a vehicle in the service department of Bob Dance Hyundai located next door
a vehicle in the Bob Dance body shop, also located next door
any need for a late model, low mileage vehicle for business, leisure, or any other short-term transportation solution
"I am thrilled that our Payless store is officially open for business" said Scott Dance the franchise owner and operating principal. "Al Fishalow, our General Manager here at Dance Automotive, and his staff of car business professionals have all the right pieces in place to make our Payless franchise successful. We are eager to take care of the automotive sales, service, and rental needs of our central Florida customers."
Bob Dance Imports, Inc. is a 50 year old family-owned business that owns and operates Hyundai and Kia franchises in central Florida. In both 2010 and 2011 Dance was ranked the #1 retailer of Certified Pre-Owned (CPO) Hyundai and Kia vehicles in the United States.
About Payless®
Payless® Car Sales, Inc. and Payless® Car Rental System, Inc., based in St Petersburg, FL, are wholly-owned subsidiaries of Avalon Global Group. Avalon has over 40 years of franchising experience in the automotive industry. The Payless® Car Sales subsidiary is known as America's Used Car Company® and awards franchises to current new car dealers and qualified top-tier independent used car dealers in the continental U.S. To learn more about the Payless® Car Sales franchise and the Payless® Car Rental local market franchise opportunities, contact Keith Wiesman or visit http://www.paylesscarsales.com/becomedealer.aspx.
About JM&A Group
JM&A Group is one of the largest independent providers of finance and insurance (F&I) products in the automotive industry. The group of four companies provides more than 3,100 automotive dealerships and retail automotive outlets with a variety of products and services, such as new and used vehicle protection plans, used vehicle certification programs, pre-paid maintenance plans, GAP protection programs, etching programs and F&I training for sales and service departments and consulting services. With more than 30 years of experience, JM&A Group's inter-related companies assisted dealers in selling 2.1 million vehicle-related service and maintenance contracts in 2011. JM&A Group is a subsidiary of JM Family Enterprises, Inc. (JM Family) of Deerfield Beach, Fla., a diversified automotive company ranked by Forbes as the 33rd largest privately owned company in the U.S. JM Family is currently ranked No.17 by FORTUNE® as one of the 100 Best Companies to Work For, its 14th consecutive year on the list.
###