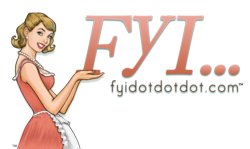 "...telling someone that they talk to loudly, dress inappropriately at work or just have bad breath, can be embarrassing ..."
New York, NY (PRWEB) February 15, 2012
The majority of embarrassing conditions can easily be solved with awareness. However, according to FYIdotdotdot.com, telling someone that they talk to loudly, dress inappropriately at work or just have bad breath, can be embarrassing for the giver and the receiver of the news. FYI… (http://www.fyidotdotdot.com) is a new web service that takes the sting out of giving and receiving the news. Now consumers can deliver important news (e.g. "you post on Facebook way too often") with kindness, humor and total anonymity. Users simply set up an account, select the message they'd like to send (called a "Tap"), and http://www.fyidotdotdot.com sends an email to that special someone telling them that "you'd like to bring to their attention something that may otherwise be hard to mention." The recipient follows a link to the site, signs in and reads the note.
For body odor the message would be "FYI…Someone would like you to know that they've detected a tinge of B.O. Don't be bashful with deodorant sticks. Take them up a few more clicks." Or for a phone addict "FYI… Someone has noticed that even when you're not alone, you cling to your phone like a dog with a bone. When you are out with friends, it would be swell, if you could try to stay off your cell."
"I used FYI… to send a Tap to a friend at work," said one user. "I just couldn't think of any other way to tell her that she needed to dress a little less revealingly at the office. She never knew who offered the advice, but it solved the problem starting the very next day."
FYI… is the creation of founders Jori Weaver and Tasha Blasi Pannuzzo who both wrestled with how to deliver the honest truth to friends. At a party, Jori and Tasha were talking about why a particular friend was still single. Tasha said, "I think it's because she has really strong body odor, but I don't know how to bring that up to her...she is really sensitive." Jori responded, "Don't you wish you could tell her without her knowing it was you, so she wouldn't get upset?" The idea took hold.
"We wanted to be able to send someone a confidential 'Tap' on the shoulder and let them know something that they don't realize is dragging them down. Something that if they knew they had, or were doing, their response would be 'oh my gosh I had no idea!'" said Jori Weaver, co-founder and creator.
There are Taps for most of the basic conditions that friends need help with: all types of hygiene and etiquette issues, being a doormat, speaking too loudly, one upping and so on. Some of the edgier ones are about relationships (boyfriend might be cheating), attitude (you're a bully), and attire (your dress is too revealing). There is also an entire section for sending anonymous compliments.
Tasha Blasi Pannuzzo, co-founder and creator likes that the site helps both the sender and the receiver of sensitive news. "For the sender, it feels like a weight is lifted off your shoulders when you finally get to help someone with an issue that could be hurting them professionally or personally. For the receiver, we are hoping that they will appreciate getting the constructive criticism about something that could be embarrassing and that's usually personal."
FYI… (fyidotdotdot.com) is a secure multi-platform system that guarantees immediate anonymous message delivery. Its patent-pending, bully-proof technology ensures that users always have good intentions and recipients have the ability to opt-out of the service at any time. Users can expect to experience Dottie (FYI...'s retro, sexy and sensible animated spokersperson) on iOS and Android mobile devices when v2 releases in late Spring 2012. Consumer brands also have the ability to white label this unique and creative technology to build advocacy and awareness among hyper-targeted audiences.
Fyidotdotdot.com – eradicating the world of embarrassing conditions, one Tap at a time. Follow @fyifromdottie on Twitter and visit the Facebook page at fyimessages.
###