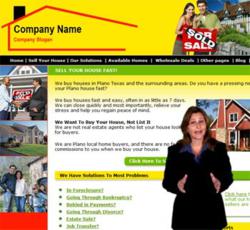 With these websites, the real estate investor closes more deals using less money, time and effort
Plano, TX (PRWEB) February 15, 2012
A real estate investing firm that also specializes in real estate investor websites has released an upgraded version of websites for real estate investors. This upgrade emphasizes marketing features built to attract prospects, engage them with follow-up messages and convert them into clients.
Social media marketing has become a forefront marketing strategy every business needs to employ to reach more people. With these websites, real estate investors can engage website visitors on the social media like Facebook, Twitter and Google Plus to reach more potential motivated sellers or house buyers.
When selling houses, the websites incorporate the use of building buyers lists with creating referrals on the website and through social media to reach more potential buyers and make more sales.
The websites are delivered equipped with advanced search engine optimization especially targeting the local market. As such, the websites attract clients in the local market where the real estate investors do business.
The inbuilt video speaking model commands instant attention delivering down to earth, believable message that relates to the needs of the website visitor, leading to a higher visitor retention and conversion into clients.
With inbuilt educative E-books, the websites convert visitors into prospects actively engaged with helpful information. The in-built autoresponders then follow up with them with helpful email messages at carefully pre-timed intervals. This increases conversion and closed deals.
For more information, please visit http://www.RealEstateInvestorsWebsites.net or call 214-227-8718.
###