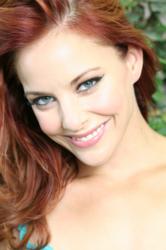 Salt Lake City, UT (PRWEB) February 21, 2012
Sibu Beauty confirmed today that their spokesmodel, Amy Paffrath will be attending this year's Natural Products Expo West and helping to introduce three new products from Sibu Beauty, the fastest-growing and most respected sea buckthorn berry-based beauty & wellness line on the market.
Ms. Paffrath, one of Tinsletown's shining stars, currently hosts MTV's Jersey Shore: After Hours where she meets with members of the hot, young cast and engages in a lively exchange of everything from what happened during the show to what happened after the cameras stopped rolling! Amy can also be seen daily as the star of MSN's Last Night on TV, a fun-filled recap and commentary on the best of the best from the previous night of prime time viewing.
The appearances at Sibu Beauty Booth #3611, scheduled for Friday, March 9th at 11 a.m. to 1 p.m. and Saturday, March 10th from 1 p.m. till 3 p.m., will include a meet and greet, plus at 11:15 p.m. on Friday and 1:15 p.m. on Saturday, Amy will be giving step-by-step demonstrations on the correct way to use skin care. In addition to making appearances on behalf of the beauty and wellness line, Amy also acts as Sibu's on-air expert, several times throughout the year, on Canada's The Shopping Channel.
Interviews with Amy Paffrath can be scheduled by contacting Sibu Beauty's PR representative, Roxanne Holland at: Roxanne(at)quintl(dot)com.
For more information about Sibu Beauty and the health benefits about the powerful and nutrient-rich sea buckthorn berry, please visit http://www.sibubeauty.com.
About Sibu Beauty
Sibu Beauty (http://www.sibubeauty.com) was introduced in early 2009 to provide customers worldwide with a comprehensive approach to beauty from the inside out and outside in. The Sibu Beauty product line is based on a powerful and distinctive whole food source, the sea buckthorn berry. This super food is backed by hundreds of scientific studies demonstrating its success at addressing a variety of consumer needs including improved skin tone and texture, healthy aging and digestive health and noticeable improvements in cardiovascular fitness, energy and weight loss.
About Sibu, LLC
The products of Sibu Beauty - a subsidiary of Sibu, LLC (http://www.sibu.com), and "The Sea Buckthorn Company" - are made with only premium sea buckthorn berries exclusively grown and harvested for the company in the Himalayan Mountains of Tibet. The company's meticulous harvesting process results in a more hardy and potent berry. Sibu's proprietary manufacturing process maximizes the efficacy of sea buckthorn raws, producing one of the most nutrient dense sea buckthorn products available on the market today. The Tibetan villagers who are responsible for harvesting Sibu Beauty's sea buckthorn berries benefit from a fair trade agreement, safe and healthy working conditions and environmentally responsible practices that ensure they will enjoy the benefits of the sea buckthorn harvest for years.
###