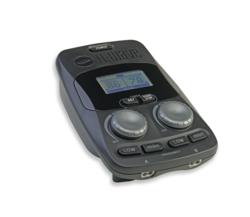 I just finished my thirteenth year with the Los Angeles Lakers and I wanted you to know the H-Wave® continues to be my electro-modality of choice for pain
Huntington Beach, CA (PRWEB) February 16, 2012
The device is used in clinics and can also be prescribed for home use where patients can treat themselves. The company first introduced the electrotherapy device in 1981. Since that time H-Wave® has built its reputation as one of the most unique and effective rehabilitative treatments in the country. With the growing concern of abuse and side effects associated with prescription drug use an effective alternative such as H-Wave has been growing in popularity. Published research has shown that the technology of H-Wave® represents a paradigm shift in electro-therapeutic treatment and numerous objective benefits have been observed.
The newest generation of the H-Wave® (Model H4) Instrument is smaller, lighter, and more durable than previous models. It is also easier to use, improving compliance. The new device can be set into pre-set mode in which the patient only has access to the frequencies/modes that they need. For clinicians or advanced users, the device can be used in Manual Mode allowing users to access a larger range of frequencies/modes. A new digital timer also allows for better tracking of treatment times. The unit boasts larger and easier to control dials (especially for those that might have hand injuries/weakness).
The new "No Load Trip" feature turns off the device and alerts the user when a lead/electrode connection is broken or insecure. This eliminates the possibility of a wire unplugging from an electrode and directly contacting a patent's skin and causing discomfort.
The unit's battery life has increased to 10+ hours, more than double the life of the previous model. The unit also carries an improved charging indicator which prevents overcharging or hurt internal battery pack. Also, a more environmentally friendly NiMh rechargeable battery pack can be replaced by the user without sending the device in for repair.
The unit has proven its effectiveness in professional sports and clinical use. According to Gary Vitti, the Head Athletic Trainer for the Los Angeles Lakers, "I just finished my thirteenth year with the Los Angeles Lakers and I wanted you to know the H-Wave® continues to be my electro-modality of choice for pain" Joseph DiGivonna of NovaCare Rehabilitation also writes "I have used your device on approximately 100 patients over the course of the past 18 months. I have personally thought it to be the single most effective modality in my arsenal." The first H-Wave H4 sold was to the 2010-2011 Superbowl Champion Green Bay Packers who own more than 20 portable H-Wave devices that are in constant use.
The H-Wave® Instrument now retails for $3,300, a moderate increase over the previous model. The unit can also be rented for $330 per month with rental applying towards the purchase price. Electronic Waveform Laboratories continues to offer a full money back guarantee on the new unit.
###