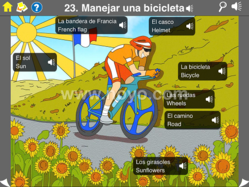 This app is great with the grandkids, my 6 year old grandson is already saying some words and is excited to learn.
Boston, MA (PRWEB) February 16, 2012
With 23 reviews thus far for Noyo on iTunes and the Amazon App Store, all positive, Boston-based Noyo is gaining acclaim as one of the best language learning tablet apps for new Spanish learners.
"This app is great with the grandkids, my 6 year old grandson is already saying some words and is excited to learn," said one review for Noyo on the Amazon Appstore.
Noyo Spanish, an innovative departure from typical flashcards and older vocabulary-building systems, takes the user on a virtual journey through a colorful landscape of exciting scenes. The curriculum introduces words and phrases in context to help beginning learners strengthen their Spanish vocabulary.
"We put lots of time and effort into designing a curriculum for Noyo Spanish to be helpful to novice students of any age. We are excited to see so many 5 star reviews and positive comments in the iTunes and Android app stores, and the overwhelming success in the Amazon app store especially with Noyo Spanish and the Kindle Fire," said Mike Sullivan, Chief Learning Officer of Noyo.
Noyo links Spanish vocabulary words to entertaining images and high-quality audio to provide a strong educational foundation for language learning. A talented team of graphic design artists brings vocabulary to life with comical characters and amusing scenarios, and each word or phrase is voiced by a native Spanish speaker. Noyo Spanish offers eight targeted vocabulary units, each with its own set of assessment questions for maximally effective learning.
Noyo features include:
-Over 1800 vocabulary words, each reinforced by supporting audio, visual representation, and written translation
-194 custom-illustrated scenes, packed with friendly characters and amusing scenarios
-Audio by a professional voice artist who is a native Spanish speaker
-8 targeted units, featuring vocabulary related to Food, Travel, City, House & Home, Seasons, Animals, School and Sports
-Built-in assessment questions at the end of each unit
-Intuitive, user-friendly navigation system
-Great for teachers to use in the classroom or to add to "reading" lists for home self-study
-Available in Spanish, with other languages including English-as-a-Second Language French, Spanish and Portuguese coming soon
Noyo was created through the combined vision of beloved Spanish schoolteacher Mike Sullivan and mobile software entrepreneur Ted Chan, who specializes in mobile user interface design.
Noyo Spanish is priced at an introductory price of $7.99, and is compatible with the iPad and most Android tablet devices, including the Kindle Fire.
"We are excited by the positive reception of our app. Noyo represents a great value when compared to other apps, as well books and learning tools for those seeking to build their Spanish vocabulary. Consumers who own tablets recognize that their time and their children's time valuable and they are willing to pay for quality learning tools. We hope we continue to gain momentum and put out great educational products for our customers as we grow." Ted Chan, Noyo's CEO.
Noyo is headquartered in Boston, MA. It is dedicated to providing engaging, cost-effective, high-value supplemental learning tools to language learners of all ages. More information can be found at http://www.noyo.com.
###