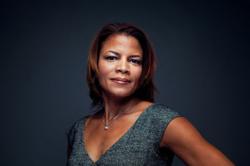 Knowing how to build only makes a better architect.
Chicago, IL (PRWEB) February 16, 2012
Dina Griffin is an African American female architect. She knows that she was the 6th black woman to become a registered architect in the State of Illinois and was the 125th black woman registered in the United States. Out of the 233,000 registered architects in the United States, 1,858 are African Americans and only 278 of those are females—a number that number is surprising low. So, in addition to being president of a successful architecture firm in Chicago, Interactive Design, Inc. (IDEA), Griffin actively promotes the field of architecture to students around the country through lectures and mentorship in hopes of introducing and attracting more minorities and minority women to the field.
"So many minorities are not encouraged into subjects such as math and sciences," says Griffin. "And, many elementary and middle schools don't even introduce the study of architecture to students. I try to make myself available to such schools so that I can talk to the students about what I do, what it takes to become an architect and, with any luck, spark an interest. We need to get the numbers up in terms of minority architects."
Griffin and her partners boast a wide variety of clients for a firm that has only 10 architects. The have worked on design projects for the University of Chicago, hold a six-state General Service Administration contract and functioned as the Architect of Record for The Modern Wing of the Art Institute of Chicago, among other high profile projects.
She also lectures at universities targeting aspiring architects. Her discussions center on how one should best market oneself for their first job. "One of the most important things for students to understand is that they need to be licensed. The other thing that is required is to have a diversified skill set. Taking all design classes doesn't offer the broad exposure that the licensing board, not to mention our profession, require. A student might be a great designer, but they need to also know how to detail. While preparing construction drawings or visiting a job site, it is important to be able to communicate effectively with a contractor through detailed drawings that express the design intent. The best preparation would be for architecture students to take carpentry courses or intern for a contractor for at least a summer. Knowing how to build only makes a better architect."
Griffin recently mentored an 8th grader with aspirations of becoming an architect through the Spark Program, a national nonprofit that provides life-changing apprenticeships to youth from disadvantaged communities. Spark's one-on-one workplace apprenticeships empower young people to succeed in their education and beyond. Khristian, the mentee, was exposed not only to building design, drafting and REVIT modeling during her eight week training, but she also gained a very up-close view on day-to-day administrative duties that come with running a company. Says Griffin, "I couldn't have been more proud than when she presented her 3-D model of her dream home to her teachers and classmates on Discovery Night. She was such an eager student and reveled in design. I expect big things from her in years to come."
As for the future, Griffin's outlook is hopeful. Upcoming lectures at The School of the Art Institute of Chicago and Florida A&M University increase visibility for the field. Concludes Griffin, "I look forward to the day when there are so many minority architects that no one will know their number—it won't make any difference."
About Interactive Design:
A Chicago based architecture firm founded in 1992, Interactive Design, Inc. (IDEA) creates environments, structures and interiors for governmental, cultural, educational, libraries, preservation, zoological, commercial and multi-unit housing entities. IDEA is a WBE/MBE certified company. For more information, visit http://www.idea8.com or call 312.482.8866.
Editor's Note: High resolution jpegs are available. Please contact Ginger Campbell at 323.933.4155 or email ginger(at)snap-productions(dot)com
###