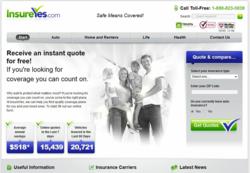 Customers are raving at its simplicity and thrilled with the savings!
Los Angeles, CA (PRWEB) February 16, 2012
Online Insurance Agent, InsureYes.com, has redesigned their website making it more consumer-friendly. They have streamlined the main page so it's easier to navigate and they've added articles about the insurance industry to make the experience a more beneficial one for site visitors.
InsureYes is a modern, security-first designed website that delivers insurance to consumers in a whole new way. No longer are consumer shoppers forced to drive to storefront agencies to receive a single quote. Now shoppers receive the best of multiple quotes from InsureYes.com. Licensed insurance agents review insurance quotes for the site visitor and deliver the best insurance option for each individual client. They do the shopping so the consumer gets the savings.
The key benefit to the consumer of purchasing insurance online is that the consumers choose the time and place where it is most convenient to conduct insurance shopping; not the agency owners. Modern technology has put consumers in the driver's seat, exactly where they belong.
All insurance quotes are free and received instantly.
The insurance industry as a whole is caught in the midst of a changing delivery system, with some firms well ahead of others in the technology switchover. InsureYes is one of the firms leading with the newest technology. All personal information is protected via use of 128 bit Secure Socket Layer (SSL) encryption technology.
InsureYes represents more than two dozen insurance companies and a full range of personal and commercial insurance lines including auto, life, homeowners and renters. InsureYes is based in Encino, California.
###