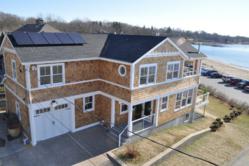 Holliston, MA (PRWEB) February 16, 2012
Renewable Sales, the East Coast's premier distributor of Solar PV and Solar Thermal products is proud to announce their American Choice Solar Panels will be featured in upcoming episodes of the popular PBS Series This Old House. The project Renewable Sales is involved with is located in Barrington, Rhode Island and it incorporates both Solar Potovoltaics (PV) and Solar Thermal products.
Sitting on the beautiful Narragansett Bay, the 1925 seaside cottage featured on the show has experienced a mish-mash of additions over the years and it was more than ready for a retrofit. Because this house is in a "Zone II" wind zone, it means that it faces particular hazards associated with strong winds of up to 110 miles per hour. This provided some interesting dilemmas for the installation of Solar PV and Solar Thermal.
Going through the process of filming and setting up the house with the proper hardware made for some long days, but it was well worth it for the Renewable team. Two arrays featuring 10 of Renewable Sales' American Choice 250 watt (ACS 250) Monocrystalline PV panels were installed by Mass Renewables of Bellingham, MA. In addition to the panels, the Thermal System installed featured a 2 Collector Heliodyne Hot Water System. The installation of this system was done by Shift Energy of Biddeford, ME.
"We are so proud to be a part of this project on many levels…in addition to seeing the fantastic transformation of this house, there is plenty for the viewers to understand and take away, especially for those who are serious about changing their carbon footprint" says Kevin Price, CEO Renewable Sales.
To catch a sneak peek of "The Barrington Beach House" on This Old House, please click: here
The episodes in which Renewable Sales Solar Panels are featured are: 3120, 3121 and 3126. The release dates for these episodes are February 16th, February 23rd and March 29th, respectively. Each market schedules the show differently, so it is important to check your local PBS listings to find out exactly when an episode will air in your area.
About Renewable Sales
Renewable Sales, the East Coast's premier distributor of Solar PV and Solar Thermal products is committed to offering proven energy solutions that are good for the environment, good for the economy and good for your wallet. Whether your project is a home, office building or college campus, we can help. Let us get the sun working for you!
For more on Renewable Sales, please visit: http://www.renewablesales.com
For more on the Shift Energy, please visit: http://www.shiftnrg.com/Welcome.html
For more on Mass Renewables, please visit: http://www.massrenewables.net
# # #