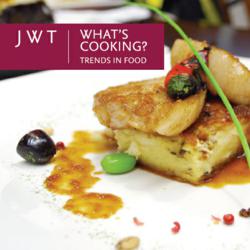 What and how we eat today might look quite baffling to anyone who's missed the past decade: buying gluten-free treats from a food truck, for instance, or 'Foodspotting' an order of locally sourced, heirloom vegetables
New York, NY (PRWEB) February 15, 2012
JWT, the world's best-known marketing communications brand, today released its latest trend report, which examines 11 cultural shifts that are affecting the wide world of food and dining, and a multitude of related things to watch.
JWT's "What's Cooking? Trends in Food" surveys what's changing when it comes to how we find, cook and eat food, how we think about what we eat and how brands are marketing food. The report looks at these changes through the lens of eight relevant macro trends that JWT has highlighted over the past few years—including Food as the New Eco-Issue, Screened Interactions and Maximum Disclosure—as well as three overarching trends affecting the category: the influence of technology, the rise of health and wellness, and foodie culture.
"What and how we eat today might look quite baffling to anyone who's missed the past decade: buying gluten-free treats from a food truck, for instance, or 'Foodspotting' an order of locally sourced, heirloom vegetables," says Ann Mack, director of trendspotting at JWT. "Yet at the same time we're reconnecting with our past, looking to eat more communally and celebrating regional food traditions, even digging up antique recipes."
JWT's trend reports are the result of quantitative, qualitative and desk research conducted by JWTIntelligence throughout the year. Specifically for this report, JWTIntelligence interviewed influencers and experts in food, received input from JWT planners across several markets and conducted quantitative surveys in the U.S. and the U.K. The surveys used SONAR™, JWT's proprietary online research tool, to poll 1,270 adults aged 21-plus from Jan. 19-24.
"What's Cooking? Trends in Food" is available on JWTIntelligence.com. Additional knowledge and research on JWTIntelligence.com includes recent trend reports on music, social commerce, the travel sector and FOMO (Fear of Missing Out), 10 Trends for 2012 and 100 Things to Watch in 2012.
About JWT
JWT is the world's best-known marketing communications brand. Headquartered in New York, JWT is a true global network with more than 200 offices in over 90 countries employing nearly 10,000 marketing professionals.
JWT consistently ranks among the top agency networks in the world and continues its dominant presence in the industry by staying on the leading edge—from producing the first-ever TV commercial in 1939 to developing award-winning branded content for brands such as Smirnoff, Macy's, Ford and HSBC.
JWT's pioneering spirit enables the agency to forge deep relationships with clients including Bayer, Bloomberg, Cadbury, Diageo, DTC, Ford, HSBC, Johnson & Johnson, Kellogg's, Kimberly-Clark, Kraft, Nestlé, Nokia, Rolex, Royal Caribbean, Schick, Shell, Unilever, Vodafone and many others. JWT's parent company is WPP (NASDAQ: WPPGY).
###