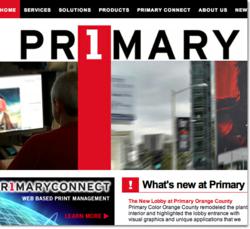 Visitors to our website will now visually experience Primary in a collaborative and informative manner and I hope the site is a source for future project inspiration
Southern California (PRWEB) February 15, 2012
To reflect their commitment of providing powerful support for all print media, Primary Color has redesigned their website. The homepage showcases a simple navigation allowing users to easily browse descriptive portfolios of services, solutions and products that Primary provides. Primary Connect, Primary's web based print management solution is accessible from the homepage and allows users to sign up for a webinar that discusses how to connect a brand with a web based print on demand solution. The About Us page has an in depth corporate profile that communicates Primary's history and their vision of producing all print material in a color managed environment. Interactively, visitors can request communications, schedule tours of the Los Angeles and Orange County facilities and chat live with Primary's Marketing department.
"Communicating with our client base is very important to me and the intuitive design of the website allows me to inform our client base on Primary's latest print technologies in a consistent way", mentioned Ron Hirt, Owner and VP of Marketing at Primary. "Visitors to our website will now visually experience Primary in a collaborative and informative manner and I hope the site is a source for future project inspiration."
Some new features include a "What's New at Primary" blog that is updated frequently with the latest news and events at Primary. In addition to the blog, Primary has added a Featured Project section to visually showcase unique graphic applications that Primary is capable of. This section will describe the planning, engineering, print process and fabrication tools utilized in the manufacturing process of unique and high profile projects Primary has produced. Users can also signup for the Primary Newsletter where new and interesting information will be delivered right to your inbox. All of these new features can be accessed right from the homepage.
"A great feature of the new site is that it can be updated on the fly and allows multiple users to easily keep the content fresh and up to date," said Jeff Peterson, Primary's Director of Marketing. "Primary is a very fast paced shop with amazing projects passing through, so it was crucial that we used a content management system that we can update quickly to keep our customers and visitors engaged on the site."
Visit the new website at http://www.primarycolor.com
About Primary Color Systems:
Primary was established in 1985. A commitment to print innovation and service has positioned them as an industry leading, comprehensive provider of graphic arts services offering five core print solutions under their roof: Pre-Media, Litho Printing, Large Format Digital Printing, High Speed Digital Flatbed Printing and Variable Data Digital Printing.
Primary's mission is to provide world-class marketing communication products and services by focusing on technological innovation and beneficial client experiences. Important to Primary is environmental sustainability while cultivating a culture of integrity and growth at the personal and corporate levels.
Contact Primary Color:
Los Angeles 310-841-0250
Orange County 949-660-7080
Atlanta 770-558-1437
###