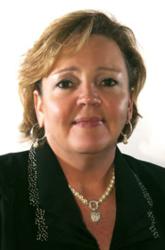 I want to bring women together in my community to connect, grow their businesses and help make one another stronger.
Battle Creek, Michigan (PRWEB) February 15, 2012
The Heart Link Network®, winner of the 2012 Women Entrepreneur Business Award of Excellence, in the "women's networking" category, is known for it's intimate and welcoming networking environment.
Women's networking chapter leader Myrna Coward is the co-owner of The Cowardly Gardeners Landscape Consulting and Design. Myrna is also a Tax Professional with Myrna's Tax Service and an entrepreneur with a home-based business with SendOutCards.
Women that attend The Heart Link Women's Network® events are given 3 full minutes to showcase their business, allowing other attendees to get to know the woman behind the name tag, versus other networking groups who only allow their attendees to share for 30 seconds to a minute.
"As a personality expert, creator of the Primary Colors Personality test, and with my background in psychology, I understand the importance of the female endocrine system. I used that knowledge to create a networking model that I believed would help women connect, bond and grow personally and professionally. Women are stronger when they are connected. Women give one another great encouragement and support. I am so excited after every Heart Link meeting I attend because I watch with excitement as new relationships grow that I know will help women succeed." says Dawn Billings, Founder of The Heart Link Network.
The nominal $25.00 networking fee includes a light meal and reserves the attendee's business-exclusive spot at the women-only networking event. To check availability for your business at The Heart Link Network® event in Battle Creek, go to http://www.49014.theheartlinknetwork.com to register to network with other amazing women in your community.
The Heart Link Women's Network® was founded by author Dawn L. Billings, architect of the Primary Colors Personality Test, the patent-pending parent tool, CAPABLES Parent Tool, and Charitable Heart.Org, a 501 3 C non profit organization to benefit important women and children's causes. Dawn was selected as one of 15 Women of Achievement by the YWCA in Cobb County, GA., and one of the nation's 80 emerging women leaders by Oprah magazine and The White House Project.
To submit an application to lead a chapter of The Heart Link Network®, or see a full list of women networking locations available for you to attend, visit http://www.theheartlinknetwork.com
###