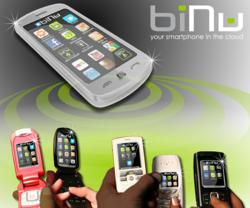 biNu joins other Worldreader's other forward-thinking partners like Amazon.com, said Worldreader CEO David Risher

"Mobile phones are central to technological and educational development in Sub Saharan Africa" said Colin McElwee of Worldreader
Sydney, Australia and Barcelona, Spain (PRWEB) February 15, 2012
biNu, a content rich, social networking platform optimized for mobile feature phones and low-end smartphones, today announced a partnership with Worldreader to deliver digital books to biNu users. The partnership provides a new distribution channel for Worldreader – a social enterprise whose mission is to transform reading in the developing world so that people can transform their lives.
Worldreader makes digital books available to all in the developing world. The organization identifies schools, trains teachers, works with communities and local officials, partners with local and international publishers and other top-tier companies to bring e-books to under-served families in the developing world. By providing access to digital books, Worldreader empowers children and families to rise out of poverty.
"Long-term, technology will help create a real culture of reading in parts of the world where that's not been possible before," said Worldreader co-founder Colin McElwee. "Mobile phones are central to technological and educational development in countries in Sub Saharan Africa-- especially in rural areas, where there is little to no infrastructure."
biNu's patented technology utilizes cloud computing to create a virtual smartphone experience that provides instant discovery, switching and sharing of apps, within a social network and messaging platform. biNu is 10x faster and 10x more efficient on data usage than standard mobile browsers and is an obvious choice for anyone looking to fully utilize their mobile phone – particularly in emerging economies where mobile phones are the primary Internet access device. The beta version of the Worldreader App for biNu is available immediately and gives biNu users instant access to a cloud-based library of digital books from local and international authors.
"Worldreader improves the lives of millions of people in the developing world," said Gour Lentell, CEO for biNu. "I am pleased we are able to extend their coverage and I hope biNu will play a part in their overall success."
With this announcement, biNu joins other Worldreader's other forward-thinking partners like Amazon.com, Penguin Young Readers Group, and USAID. Said Worldreader CEO David Risher, "Together with the some of world's best-known organizations, Worldreader and our partners are bringing books to all."
Worldreader (http://www.worldreader.org) is a not-for-profit organization whose aim is to put a library of books within reach of every family on the planet, using electronic book technology. Worldreader has established e-reader programs in schools in Ghana and Kenya, and Uganda with plans to expand throughout sub-Saharan Africa.
For a Worldreader press kit, please see http://bit.ly/oBVyZm.
For more information, please contact Susan Moody, Director of Communications
susan(at)worldreader(dot)org
Spain: 34 639 366 634
U.S.: 1 206 588 6057
For more information on biNu, please contact:
mark.shoebridge(at)binu-inc(dot)com
Australia: +61 2 8438 0104
http://www.binu.com
biNu nominated for 2012 Global Mobile Awards Most Innovative App
###