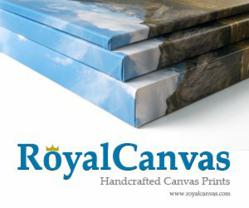 We compete on the quality of our prints and I think we can beat anyone out there.
Chesapeake, VA (PRWEB) February 20, 2012
Making a living as a professional artist or photographer is not easy.   It takes years of dedication to ones craft to truly become a professional artist.   But proper lighting and brushstrokes are not the only skills required of a professional artist.  The artist must also become an entrepreneur.  They must travel, present and sell artwork at shows like the Coconut Grove Arts Festival in Miami or the Ann Arbor Art Fairs in Michigan.  They must create a website for their business and learn things like SEO (Seach Engine Optimization) to get online customers in the door.
In order to maximize revenue at art shows or from current customers, many artists have begun selling high quality canvas prints of their original photos or art reproductions.   "Whether it's for public display at a gallery, hospital, or for sale at shows, canvas printing is becoming more and more the preferred choice for professional artists and photographers" says Rick Stephenson, the founder of RoyalCanvas.com.   "Canvas has a wow factor that you don't get with some of the other mediums and that can make or break you in a competitive sales environment like an art show."  Stephenson says while there are many companies that make canvas prints, Royal Canvas is one of the few built around the concept of satisfying professional artists.
"We have customers who get on ocean liners and spend weeks going to places like Antarctica to get the perfect shot of rare wildlife," says Stephenson.  "When you have customers that go to those lengths to capture their art, we have to provide a perfect canvas print for them to present at their shows." 
Royal Canvas has found success catering to professional artists.   Stephenson says Royal Canvas stretches every canvas by hand to ensure a quality and long lasting wrapped canvas print.  "They have machines that wrap canvas prints but this is one of those things where a skilled person is going to do a better job than a machine every time.  Our prices are great and we have a code that artists can use at checkout to get a great discount. We compete on the quality of our prints and I think we can beat anyone out there." 
Visit RoyalCanvas.com to learn more about turning your photo to canvas.   
Artists and photographers can use the code "Photo30" at checkout to receive a 30 percent discount on all canvas prints.
###