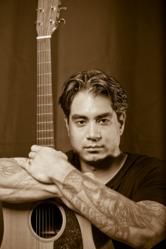 I can teach you to master the guitar.
Fort Lauderdale, Florida (PRWEB) February 20, 2012
One common hurdle for beginning guitar students is being bombarded by endless theory, confusing fingerings, and exercises that just don't sound good. Determined to not let this happen to his students, each of Dyce's Fort Lauderdale guitar lessons are laser-focused on getting students to play music—from day one. This is done by not only clearly illustrating the given topic—but more importantly—showing the easy application of that given topic.
Lesson #6 includes the three chords that are the foundation for one of the all-time favorites, "Sweet Home Alabama." The chords this time around are three major chords: D, C, and G Major. As always, Dyce makes everything easy to follow: as he plays, a large & easy-to-read tablature shows students precisely where to place their hands. Meanwhile, Dyce's playing and speaking voice are clear, and easy to understand. As always, Dyce pushes his students to jump right into playing: "I encourage you to be able to play along with the original recording," this Fort Lauderdale guitar teacher proclaims. "It makes learning the guitar that much more fun [and easy.]"
Dyce Kimura has long been regarded as one of the Miami area's top guitar teachers. Today, though, he is now accepting students from across the globe for 1-on-1 lessons via Skype. Signing up for Skype takes just minutes—and all that's required for Dyce's Skype guitar lessons are a high-speed internet connection, webcam and microphone (standard on all new computers these days).
Dyce's free YouTube guitar lessons will only continue to grow in popularity: that's because Dyce gets even first-time players to start playing great music…today.
To learn more about Dyce's latest free YouTube guitar lesson—or to sign up for a lesson via Skype—call 786 457 3687 today.
###