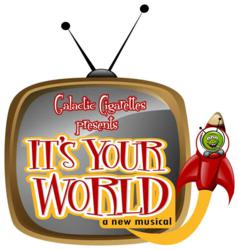 Washington DC (PRWEB) February 15, 2012
Today, maXam Production Group announces the official cast list for the musical's full length read-through. Actress Wendy Meetze and actor Matthew Curtis will be playing the lead roles of Jenny Wilson and Bryan Stanley respectively. Meetze holds a Bachelor of Arts degree from Virginia Polytechnic Institute and State University, and has substantial vocal and musical theatre experience. Curtis has played roles in productions of Grease, Willy Wonka, and Westside Story. The combination of these two talented actors is "sure to make this reading terrific," says Adam Levowitz (http://www.adamlevowitz.com). The full cast list is available at http://www.facebook.com/Itsyourworldmusical?sk=app_106171216118819.
The initial read-through is scheduled for March 9th and 11th, 2012 at 1st stage in Tyson's Corner, Virginia. Tickets are free and will be available through the It's Your World Facebook page (http://www.facebook.com/itsyourworldmusical). "Like" the page today to stay abreast of developments, news, and insider rehearsal videos.
Galactic Cigarettes Presents: It's Your World is one part satirical comedy and one part moral dilemma, following the lives of two regular Americans as they get the opportunity to participate in a game show where the prize is an unbelievable $100,000. The two main characters, a school teacher recently returned from Korea and a shy girl from a Manhattan typing pool, are given fame and the possibility of fortune when they become the newest contestants on Galactic Cigarettes Presents It's Your World!. And just when the audience thinks everything might just be as squeaky clean as this depiction of the nostalgic era of 1950s America, our beloved characters learn that things are not as they seem. What will two basically good, honest, hardworking Americans do when faced with the choice between the American dream and taking the moral high ground and exposing the truth?
It is worth the price of a ticket just to see this display of a simpler time come to life. Audiences will be rewarded with catchy songs, 50s commercial spoofs, and a world that is every bit as hip as they imagine it was. The moral dilemma serves to make this satirical comedy more endearing rather than tarnish the 1950s charm. A must see for anyone who wants to be transported to another time, even for just an evening.
Galactic Cigarettes Presents: It's Your World is from the amazing duo of Paul Eiseman,http://www.harrisonhuntmysteries.com/about/, and Adam Levowitz, http://www.adamlevowitz.com, who have worked together on numerous projects including the retelling of Shakespearean classics A Midsummer Night's Dream and The Tempest.
This satirical comedy delivers on every promise – the nostalgia of squeaky clean 1950s America and the underlying problem created when morality is challenged.
###