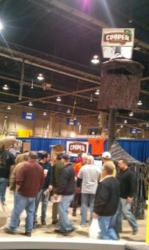 We enjoyed showing our Chameleon product line to thousands of people at this show." Dan Cooper, CEO
Cottage Grove, TN (PRWEB) February 15, 2012
In other events Cooper Holding Corp announced they are now OTC Pink Current. This move was an important first step in the company's plans to become fully reporting and move trading to the Over The Counter Bulletin Board. Cooper Holdings has adopted a very aggressive business plan for 2012 and the strategy to move up the OTC tiers is designed to increase shareholder value, build investor confidence, and validated our commitment to continued growth. For updated information related to our most recent filings investors can visit: http://www.cooperholdingcorp.com/investor-information.html
Cooper Hunting Inc., http://www.cooperhunting.com ,a wholly owned subsidiary of the Cooper Holding Corp., announced that 2012 has started out with very successful appearances at the Eastern Sports and Outdoor Show in Harrisburg, PA, Ellett Brothers Distribution show in Columbia, SC the Farris Brothers Distribution show in Jackson, MS, the Hick's Distribution show in Destin, FL, the Big Rock Distribution show in Raleigh, NC and the Nation's Best Sports Show in Fort Worth, TX. These shows are important for Cooper Hunting to showcase our products and sign new accounts. Not only are we able to sell our products to the public but more importantly the exposure to National Retail Chains is invaluable. At least another eight more shows are scheduled through the end of March.
We now have over 300 brick and mortar locations and are in the process of adding major accounts that will have a significant impact on the growth and revenue of Cooper Hunting. Sales at these shows were "significant" and the final numbers including details of new accounts will be released as soon as possible. While not in a position to discuss all new accounts Cooper Hunting did confirm that "Ellett Brothers" and "Big Rock Sports" begun placing their stocking orders for the upcoming Turkey Hunting season. Come visit us at: http://www.facebook.com/cooperhunting
Safe Harbor Statement
Matters discussed in this press release contain forward-looking statements within the meaning of the Private Securities Litigation Reform Act of 1995. When used in this press release, the words "anticipate," "believe," "estimate," "may," "intend," "expect" and similar expressions identify such forward-looking statements. Actual results, performance or achievements could differ materially from those contemplated, expressed or implied by the forward-looking statements contained herein, and while expected, there is no guarantee that we will attain the aforementioned anticipated developmental milestones. These forward-looking statements are based largely on the expectations of the Company and are subject to a number of risks and uncertainties. These include, but are not limited to, risks and uncertainties associated with: the impact of economic, competitive and other factors affecting the Company and its operations, markets, product, the impact on the national and local economies resulting from terrorist actions, and U.S. actions subsequently.
###