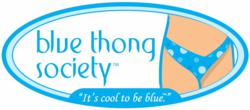 "Good Fun, Good Friends, GoodWorks™"; are 3 reasons why members join the BTS"
San Diego, CA (PRWEB) February 16, 2012
The Blue Thong Society has a new mantra to add to their already successful "Fight Frump" and "It's Cool to be Blue". This new tagline "Good Fun, Good Friends, GoodWorks™" encompasses the top 3 reasons why members are attracted to the organization according to yearly membership surveys. Member responses of, meeting new people, getting together for fun events, and giving back to the community, were main reasons as to why they joined the Blue Thong Society versus other women's social organizations. These three aspects have made the BTS somewhat unique among other international women's groups who meet regularly in chapters.
The BTS surveys its members annually for other information as well, such as gathering data on member's concerns about health and wellness matters. Their most recent survey revealed that member interests follow normal expectations with some surprises. For instance, members showed top responses in wanting information on menopause, heart health, depression, diets/exercise, stress reduction, hair/makeup, skin care, non-surgical facial options, and image consultation/fashion. They were also very keen on having access (through email or blogs) to experts in all these fields. They want information delivered by well-informed physicians or other professionals, and they want it timely, current, and accurate to avoid any misinformation.
In addition to surveys, the Blue Thong Society holds national and regional conferences for their members. Their next events will be held in Staten Island on May 16th and in New York City on May 19th with final details on venue and times to be announced. "BTS events are always open to the public", says Mary Jo Wallo, BTS Founder, "and they consistently include professional presentations from our sponsors on various subjects of interest to women".
The Blue Thong Society's national conference for 2012* is a cruise to Cozumel out of New Orleans, which includes workshops, fun events, and mixers. The event is open to everyone.
About Blue Thong Society (BTS)
Since its inception in 2006, the BTS (bluethongsociety.com & facebook.com/itscooltobeblue ) has grown its unique international women's philanthropic organization to 300 chapters and 5,000+ women. These modern, fun, confident, professional and philanthropic women - connect socially, but with purpose and intent to make the world a better place. Chapters commit to a GoodWorks™ program twice a year and pledge that commitment to the BTS board and membership.
*NOTE: Reserve your space for The BTS 2012 Annual Conference – fully refundable, no obligation – visit our website.
# # #