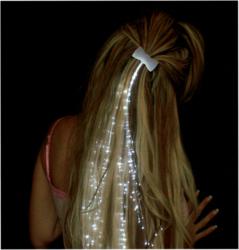 San Diego CA (PRWEB) February 21, 2012
Luminence, an innovative developer of fun, fiber optic accessories, today introduced the next generation version of its' popular Glowbys hair lights. These fiber optic hair extensions are the ideal accessory to brighten any nighttime event.
The new, improved Glowbys feature a bow-shaped barrette with even brighter lights than before. And the colorful plastic barrette now matches the light color emanating from the fibers. New Glowbys are currently available in white, pink, blue, rainbow and green; additional colors including red, violet and gold will be available later in 2012. A special flashing blue/red version with white barrette will be available for 4th of July.
"Girls and women of all ages love Glowbys" says Chris Bonang, President of Luminence. "They're ideal for any nighttime event - parties, prom, Halloween, St Patrick's Day, 4th of July, and more. After a record-breaking year of Glowbys sales in 2011, we're very excited to release this updated version with so many great, new features."
The next generation version turns on/off by closing the barrette hair clip, such that the batteries are completely contained; the batteries can still be replaced by use of a small screw driver. They are lead-free and CPSIA (Consumer Product Safety Improvement Act) certified, and so are totally safe for children under 13.
The patented Bow Glowbys are now available and can be purchased wholesale at http://www.luminence.us. Retail Glowbys will soon be available at various national and online retailers, including http://www.glowbys.com.
For more information about Glowbys or other Luminence products, including Crystal Tress crystal hair extensions and Handlebeams fiber optic bike handle streamers, please visit http://www.luminence.com.
###