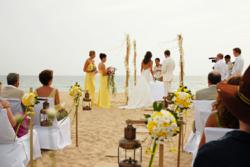 Bangkok, Thailand (PRWEB UK) 17 February 2012
Wedding dreams become reality as Aleenta Resorts launches its indispensable tailor-made guide to tying the knot in Thailand – offering useful tips, valuable insights and some wonderfully unique ideas and venues that once again raise the bar for intimate beachfront wedding occasions.
The Aleenta Weddings book (DOWNLOAD HERE), offers a creative and completely a la carte experience for couples, who are seamlessly guided through a host of imaginative and fun concepts at destinations renown for exquisite natural beauty, privacy and endless kilometres of untouched golden sands.
Dedicated personal wedding planners are on hand at the award-winning Aleenta Phuket-Phang Nga and Aleenta Hua Hin-Pranburi resorts, as well as sister resort Akaryn Samui, to offer couples the opportunity to release rare turtles, breakfast onboard a long tail boat, stroll along the beach with a baby elephant or simply say "I do" over a quiet glass of champagne.
The book caters to anything from two people up to a hundred as couples can choose from venues such as Grand Villa Air, a picturesque beachfront house, or Grand Villa Satis where 80 guests can roam the stunning gardens that spill onto a 20km stretch of pristine beach – offering intimacy, style, privacy and above all a day to remember.
Akaryn Samui offers intimate weddings and celebrations on Hanuman Bay, a stunning 500m stretch of beachfront, as well as a spacious lawn area at the edge of the golden sands, ideally suited to small, romantic events and where there are 52 luxurious pool residences available to guests.
Each resort is picture perfect, yet fully equipped to cater to all wedding needs. Ocean views are ubiquitous, as is Aleenta's concept of 'Outside Living – In' so wedding parties will experience nature's charms alongside all the rewards of an exclusive, five-star resort.
Dive into Aleenta's exquisitely designed guide and discover anything is possible; the resorts can be hired in their entirety exclusively for a wedding and are happy to provide any style of ceremony in any faith and in any language.
The Aleenta Weddings guide will whet appetites on how the perfect day will be achieved - bursting with details on everything from flower decorations, finding the right music and organising a candlelit ceremony to talented local photographers who seamlessly blend the resorts' stunning natural backdrops into wedding photos, to make-up artists and how to find the perfect wedding dress created by top local designers.
"This book is a celebration of one of the most important days of our lives – our wedding day," says Aleenta Resorts managing director Anchalika Kijkanakorn, who held her own wedding at Aleenta Phuket-Phang Nga. "Our resorts are made for celebrations, and we're thrilled to be able to offer this book that will leave couples in no doubt Aleenta will make each and every wedding dream a reality."
The Aleenta Weddings guide further demonstrates that there's more to a wedding than the day itself. Spa IV for example makes a superb setting for the 'hens' to gather. The 'stags' aren't forgotten – organise a private cookery lesson with talented chefs – what better way for the groom to surprise his new bride. And as couples rejoice in their new life together they can commemorate the occasion by releasing endangered leatherback turtles back into the wild.
An Aleenta wedding presents the perfect opportunity to tie in the holiday of a lifetime with spending time with your loved ones. Couples can read in the guide how once they're here, they're already in the idyllic honeymoon destination; they can luxuriate in deluxe suites, enjoy mouth-watering gourmet meals and experience the highest quality service and hospitality for even longer.
The guide is the ultimate preview to the wedding of a lifetime. When a couple declare their vows at an Aleenta wedding they do so against a background of ocean views, beautiful sandy beaches and the rhythm of the crashing waves – together, Aleenta will make it the best day of their lives.
Small, intimate, romantic weddings and celebrations are also offered in exquisite beachfront style at Aleenta Resort's sister property in Koh Samui – Akaryn Samui – which will be opening along a private 500m beach in March this year. The 52 pool-residence resort is perfect for couples looking for a Koh Samui wedding experience – where Buddhist weddings along with other denominations are managed in seamless style courtesy of the resorts' dedicated wedding planning team.
###