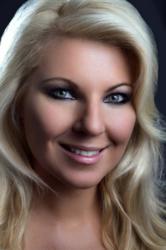 It really doesn't take that long to achieve this amazing Smoky Eye look!
(PRWEB) February 17, 2012
Popularized by sexy socialite, Kim Kardashian, the Smoky Eye look (also known as 'Sexy Smoky Eye') is a sophisticated, seductive eye makeup technique.
To date, however, it's been difficult to achieve the Smoky Eye look without the aid of very expensive cosmetics or a trained professional makeup artist. SmokeyEye.com looks set to change all that.
Developed by Australian mom, Danielle Parés, SmokyEye.com offers a high-definition video tutorial demonstrating how to achieve the Smoky Eye look. The tutorial consists of six short, easy to follow videos — one for each step in the process.
"It really doesn't take that long to achieve this amazing look," said Parés. "Each video is about a minute long, because that's how long each step actually takes!"
Importantly, SmokyEye.com doesn't require over-priced cosmetics from the cosmetic giants or an expert makeup artist. According to Parés, the Smoky Eye look can be achieved by anyone. "All you need is my video and my affordable all-in-one cosmetic pack," she said. "The Smoky Eye Collection is a 'must have' in affordable luxury, it contains gorgeous shimmery colors for day and night, transforming the girl next door into a stylish glamour!"
Parés said she is so confident in the effectiveness of the all-in-one Smoky Eye kit that she actually guarantees it will work. "If you're not completely satisfied with the pack, we'll give you your money back, no questions asked."
Key features:

6-part HD video tutorial for the night-time Smoky Eye look
Developed by Australian mom, Danielle Parés
Approx 6 minutes to complete
No professional make-up artist required
High quality and affordable all-in-one Smoky Eye cosmetic pack available
###