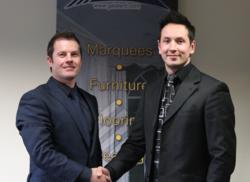 The scheme is at no cost to the retailer and minimal costs to us mean we can employ more staff reducing unemployment, everybody wins!
Rotherham (PRWEB UK) 16 February 2012
Having worked self-employed for four years, Jonathan Hardwick, an experienced tradesman from Mexborough downed tools in the search for a more challenging and secure occupation. This is where Gala Tent MD Jason Mace would put Jonathan through a detailed and rigorous interview before offering him a job as the company's new concessions manager.
Jonathan's new role involves him forming new business partnerships for Gala Tent, firstly in the local area spreading nationally. The concession concept devised by Jason Mace involves businesses working together in order to survive in harsh economic times.
If other businesses operated similar partnering schemes, it would be a real game changer in British business. Gala Tent aim to assist in reducing the devastating unemployment rate of 2.69 million and with over 4 million businesses in Britain, this partnership scheme created by Gala Tent could burn down the unemployment levels tremendously. This will especially be a great opportunity for the 11% of college leavers studying business struggling to find suitable work.
The launch of Gala Tent's new concessions division began a fortnight ago and there has already been over 40 contracts secured for stores in the North East as part of this large concept aimed to provide around 200 new jobs as the new concession department expands.
###