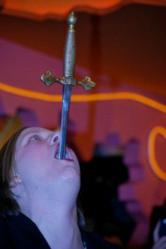 We established World Sword Swallower's Day to honor this ancient art and recognize the few people in the world who can do this
Orlando, FL (PRWEB) February 16, 2012
More than 30 sword swallowers will be "dropping swords" at Ripley's Believe It or Not! Odditoriums worldwide at 2:25 p.m. on February 25, in celebration of the 6th annual World Sword Swallower's Day. In excess of 125 feet of solid steel is set to go down the hatch – hopefully without a scratch!
Sword Swallowers Association International and Ripley's Believe It or Not! pay homage to the art of sword swallowing with free shows on February 25
On February 25, SSAI sword swallowers will be putting on free shows at more than a dozen Believe It or Not! Odditoriums worldwide, including: New York City; Hollywood, CA; Orlando and St. Augustine in FL; Grand Prairie, TX; San Francisco, CA; Gatlinburg, TN; Branson, MO Niagara Falls, Canada as well as London, England.
Performances typically start around 2 pm local time and culminate with an official "swallow" that will take place at 2:25 p.m. to coincide with the 2/25/12 date.
"We established World Sword Swallower's Day to honor this ancient art and recognize the few people in the world who can do this," explains Dan Meyer, a sword swallower whose amazing feats have been chronicled by Ripley's Believe It or Not!. "We also raise awareness of the contributions sword swallowers have made to the fields of medicine and science and raise money for esophageal cancer research."
Ripley's Believe It or Not! has a long history of highlighting the death-defying achievements of sword swallowers.
"Sword swallowers were a big part of the very first Ripley's Believe It or Not! Odditorium at the Chicago World's Fair in 1933," said Tim O'Brien, VP of Communications for Ripley Entertainment Inc. "There, three performers, two of whom were women, mesmerized the huge crowds. Ripley's has been home to sword swallowers around the world ever since."
About Ripley Entertainment Inc.
Ripley's Believe It or Not! is part of the Ripley Entertainment Inc. family of worldwide attractions, the global leader in location-based entertainment. More than 12 million people visit its 85-plus attractions in 11 countries each year. In addition to its 31 Believe It or Not! Odditoriums, the Orlando, Florida-based company has publishing, licensing and broadcast divisions that oversee projects including the syndicated Believe It or Not! television show, best-selling books and the popular syndicated cartoon strip, Ripley's Believe It or Not!, that still runs daily in 42 countries. Ripley Entertainment is a Jim Pattison Company, the third-largest privately held company in Canada.
About Sword Swallowing
The art of sword swallowing began more than 4,000 years ago in India, and requires the practitioner to use mind-over-matter techniques to control the body and repress natural reflexes to insert solid steel blades from 15 to 25 inches down the esophagus and into the stomach. With the demise of the traveling circus sideshow over the past several decades, there are currently less than a few dozen full-time professional sword swallowers actively performing the deadly art around the world today.
About the Sword Swallowers Association International
Founded in 2001 to preserve the art of sword swallowing, SSAI is comprised of sword swallowers from around the world and maintains a website with general information on sword swallowing for the general public at http://www.swordswallow.com.
Contacts
Tim O'Brien
VP Communications
Ripley Entertainment Inc.
(615) 646-7465 – office
(615) 496-5949 – cell
Obrien(at)ripleys(dot)com
Dan Meyer
President
Sword Swallowers Assoc. International
(615) 969-2568
halfdan(at)aol(dot)com
###