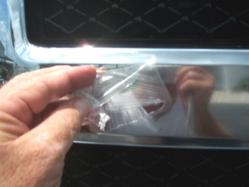 It provides a cellophane-like barrier, literally a shield that protects your investment from Love Bugs and other insects. The bug goo dries on the barrier – not your car! Bugs a
(PRWEB) February 20, 2012
Get ready to experience a very buggy Love Bug Season. The creator of The Love Bug Solution™, a spray on cleaning solution and chemical barrier to protect vehicles from Love Bugs and other insects, says the 2012 Love Bug Season has all the ingredients of a perfect bug storm of significant proportions based on a number of factors.
"Florida has the distinction of having the first Love Bug Season in the nation," said Frank Sheldon, the Florida inventor who developed the spray on chemical solution that creates a cellophane-like film that protects vehicles against insect damage. "If you can imagine a perfect storm of significant events all coming together to create a bad love bug season that is what we are facing as we approach the upcoming season."
Sheldon says love bugs are expected to be out in significant numbers based on the extra mild winter here in Florida and other states where love bugs have become more common as they spread northward in the United States. He also points out storms and tornadoes throughout the southeast left behind massive amounts of decaying vegetation that are love bug breeding havens. "While the fall Love Bug Season was mild, conditions are ripe for a huge hatch of love bugs and that is going to create serious concerns for motorists who don't want to spend hours washing love bug remains from their vehicles," added Sheldon.
The Love Bug Solution™ is chemically engineered to be applied wet and when dry it provides a cellophane-like barrier, literally a shield that protects your investment from Love Bugs and other insects. The bug goo dries on the barrier – not your car. Bugs are trapped on the solution's surface where they may be safely rinsed off as The Love Bug Solution™ magically dissolves to soapy suds when sprayed with water. "The days of scouring your car or truck's grill, hood, lights and mirrors are gone. The Love Bug Solution™ takes the major work out of getting rid of bugs that have taken aim at your vehicle while traveling during Love Bug Season or any kind of insect swarm," Sheldon concluded.
Long term plans call for The Love Bug Solution™ to be made available directly to consumers in convenient aerosol cans that may be ordered online worldwide at http://www.TheLoveBugSolution.com. The Love Bug Solution™ contains no solvents, is biodegradable and is proudly made in the U.S.A. For more information about The Love Bug Solution™ or to become a distributor, visit The Love Bug Solution™ website. The Love Bug Solution™ -- Protecting Your Investment with a Cellophane-Like Barrier. Distributed by K-Four Marketing, Hobe Sound, Florida.
See The Love Bug Solution in action on You Tube.
###