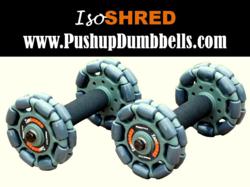 The hardest push up you will ever do.
Seattle, Wa (PRWEB) February 17, 2012
IsoSHRED Fitness brings their Push Up Dumbbells to the scene of the home fitness equipment world, surpassing all other push up stands or push up bars on the market. The state of the art design behind the revolutionary exercise equipment allows the devices to move in all directions, transferring several advantages to the user and increasing the effectiveness of their chest workout.
Already, most critics are classifying the IsoSHRED Fitness Push Up Dumbbells as the new Perfect Pushups challenger in the industry. Not only does the IsoSHRED product provide a better overall chest workout, it also allows the user to perform abdominal exercises. This adds even more value to the product, making it worth every penny.
The genius behind Push Up Dumbbells is its multi-directional design. By having this capability in place, it forces the user to practice stabilization and use more muscles in the process than would typically be used during push ups on normal push up stands or push up bars. You won't only feel a burn in your chest -- you'll get a deep burn in your shoulders, lats, and abs.
The abdominals are exercised when using the product in a similar fashion as an ab wheel. Again, this forces the use of more muscle groups, adds to the difficulty level, and results in a better, and more thorough, upper body workout. Anyone looking to gain a serious increase in strength should buy push up equipment from IsoSHRED Fitness.
To learn more about IsoSHRED Fitness and their revolutionary new push up equipment, visit their website and watch the push up dumbbells video. The product can be purchased online, directly from their website. You will also find many resources and valuable tips for using the Push Up Dumbbells and exercising in the most effective way possible.
###