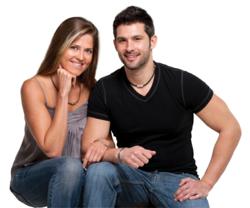 Sikeston, MO (PRWEB) February 28, 2012
Since Sabona's creation in 1959, the company has been the premier manufacturer and marketer of copper and magnetic bracelets worldwide; however, this year, they are expanding their line into other jewelry by introducing their first Sabona Leather Magnetic Necklace.
Showcasing a beautiful braided leather cord, the Sabona Leather Magnetic Necklace, holds four 1200 gauss magnets in polished stainless steel accents. The necklaces come in either brown or black leather and their easy-to-use adjustable sliders, make the necklaces one size fits most.
The new stainless steel bracelets include the Imperial Men's Magnetic Bracelet, featuring brushed and polished stainless steel for a clean line masculine look and the Greek Key Stainless Magnetic bracelet, showcasing the seamless Greek Key design. Both of these men's designs also come in a version with gold plating. Other stainless steel items include two new ladies' designs, the Lady Executive Two Tone Gem Magnetic and the Lady Executive Matte Gem Magnetic, both highlighting beautiful cubic zirconia gems.
To round out the 2012 collection, the Antique Horsehead Crosses Magnetic Bracelet is a great addition to the Western line and the Brushed Copper Magnetic Wristband gives a twist to Sabona's original copper magnetic series.
The Leather Magnetic Necklaces will be available in Spring 2012. For more information on all of Sabona's products, visit http://www.sabona.com or call 800-497-4199.
About Sabona of London Unlimited, Inc:
Sabona of London, Inc., established in 1959, has a long history as the premier manufacturer and marketer of copper and magnetic jewelry worldwide! The expanded Sabona product line includes Copper Magnetic Bracelets and Stainless Steel Magnetic Bracelets as well as Pro Magnetic Sport silicone wristbands and Sabona Athletic Bracelets, a line of fabric magnetic bracelets. In addition to magnetic bracelets, Sabona offers Copper Thread Supports, a line of supports for the knee, ankle, elbow, etc. that feature 5% copper thread in the fabric.
Contact:
info(at)sabona(dot)com
800-497-4199
http://www.sabona.com
###