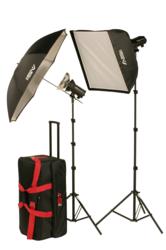 Smith-Victor has been the popular choice among amateurs and professionals for many years because of the large product selection and value. That "value" is even greater right now during the rebate period
Bartlett, Ill. (PRWEB) February 16, 2012
Smith-Victor, a leading manufacturer of photographic lighting equipment and accessories, has extended its widely popular rebates from Imaging USA until March 31, 2012. The rebates are available on their popular flashlite monolight and continuous lights kits. With the rebates, consumers can save up to $100 on lighting and accessories.
"Smith-Victor has been the popular choice among amateurs and professionals for many years because of the large product selection and value. That "value" is even greater right now during the rebate period," said Bob Higgins, sales and marketing manager of Promark International, manufacturer of Smith-Victor products. "We began these rebates as a show special at Imaging USA, and the response has been so strong that we were compelled to continue them."
Smith-Victor's flashlite monolight kits feature the brand's 110i, FLC200 or FLC300 models and offer constant color technology and infinitely variable flash power settings. Rebates are also available on Smith-Victor's Economy Soft Box or Pro-Kits. The Economy Soft Boxes combine a soft box and light fixture, all in one unit and can be used with fluorescent lamps, photoflood lamps, and quartz halogen lamps. The Pro-Kits offer the working professional or serious amateur a combination of components designed to fit a variety of applications.
All consumer purchases must be made between January 15 and March 31, 2012, and all rebate forms must be postmarked by April 30, 2012. Only new products purchased from an authorized Smith-Victor dealer will qualify for the rebate. For more information on the rebates and to download the form, visit http://www.smithvictor.com
About Smith-Victor
Smith-Victor is a leading manufacturer of quality lighting and accessories for imaging and video with a long, impressive history in the photographic industry. The Smith-Victor line is currently designed, engineered and manufactured in Bartlett, Ill. and the company's photo and video products are sold primarily through retailers throughout the United States and Canada. For more information, visit http://www.smithvictor.com.
About Promark International Inc.
Promark engineers, designs, manufactures and sells a variety of photographic and video lighting products and light shaping accessories. Promark is located in a new 96,000-square-foot, state-of-the-art manufacturing facility in Bartlett, Ill. Brands in the Promark family include Photogenic Professional Lighting (Photogenic.com), Smith-Victor (SmithVictor.com), Norman (Normanlights.com), Cool-Lux (Cool-Lux.com), Speedotron (Speedotron.com) and Logan Electric (LoganElectric.com). For more information, visit promarkbrands.com.
###