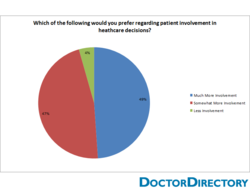 Asheville, NC (PRWEB) February 17, 2012
DoctorDirectory, a leading marketing solutions company serving healthcare professionals and pharmaceutical industry clients, asked their community of HCPs to submit questions for a series of peer surveys. After collecting over 800 submissions, the questions were divided up into separate surveys and sent to HCPs across the United States.
Topics covered in the peer-generated surveys included healthcare reform, electronic medical records, practice behavior, career, industry relations and practice management.
HCPs were eager to respond to surveys developed by their peers and offer insight into their working lives. Some of the highlights include:

HCPs revealed that, despite lower reimbursement rates, higher patient volumes and longer hours, 2 out of 3 would choose the exact same career path again.
96% HCPs would like to have their patients at least somewhat more involved in healthcare decisions.
81% of HCPs report that Rx samples and 78% report that visits from pharmaceutical representatives at least somewhat make a difference in prescribing patterns.
Despite advances in electronic medical records, smart phone apps, and online patient appointment setting, 60% of HCPs report that they still spend more than 10% of their time doing paperwork, insurance reviews, and/or formulary issues.
As the adoption of EMR continues to increase, HCPs opinions seem to be split as to their value with 46% saying that EMR and computers have become a distraction in the exam room.
The controversy over healthcare reform legislation and national health insurance has left 61% of HCPs feeling unrepresented.
For more information about these surveys and DoctorDirectory's fingertip access to HCPs, please contact DoctorDirectory by emailing here or calling 828-255-0012 x 105.
About DoctorDirectory
DoctorDirectory specializes in providing healthcare professionals the opportunity to participate in Market Research and other programs that help shape the healthcare industry. DoctorDirectory's exclusive IncreaseRx marketing solution provides pharmaceutical brand teams with access to virtually all U.S. prescribers and generates measurable and verifiable incremental revenues. Visit ContactDD.com to learn more. Follow DoctorDirectory on Twitter @ContactDD.
###