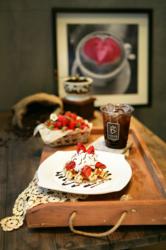 Kim Sun-Kwon, the founder and CEO of caffébene believes "trust' and 'faith' are the most important keys to his success of business.
New York, NY (PRWEB) February 16, 2012
In the great war of coffee in New York City, there's a new kid on the block. caffébene, renown for the mellow and nutty flavoring of its coffee brand, is setting up shop in Times Square.
caffébene, which originated in Seoul, Korea, is already a booming chain and a favorite hotspot for locals in Seoul. Since its founding in 2008 by entrepreneur Kim Sun-Kwon, the chain boasts over 800 outlets compared to the 381 of the veteran Starbucks. The success of caffébene is largely to due to the stellar taste of its coffees, which is a medium roast blend that is rich in flavor but without the bitterness often associated with other brands. Also popular are the signature beverages like the Misugaru latte, which is a Korean tea-based drink that combines five grains of black rice, brown rice, white bean, black bean and barley. Besides its sweet and salty flavor, the latte is also a famed for its health benefit, which is high in fiber and low in calories. This will be especially attractive to New Yorkers who are typically one of the most health conscious demographics in the US. Each store employs its own pastry chef and baker who prepare crafted menu favorites like the Belgian waffle, caffébene's signature dish, served in two types of waffles: sweet waffles with sweet pearl sugar and savory waffles with bacon
and Parmesan cheese.
More importantly, caffébene takes the sit and sip atmosphere of its rivals and brings it to a whole new level. All of its stores' interiors styled like old European coffee houses with subway-tiled walls that boasts flat-screen TVs. There is even separate reading and WIFI-enabled rooms and thus the atmosphere of caffébene is a retrofitted hangout for people who like to relax, drink and be merry. According to founder and CEO Kim this is his favorite part about being a business owner. "I've never see people arguing in my coffee shop," he says. "I just enjoy seeing people having a good time."
About caffébene;
The Seoul-based coffee franchiser, caffébene, started in April 2008 in Seoul, Korea and has since open 700 stores in the surrounding cities. Each store employs its own chef and baker who prepare fresh menu items each day. Kim Sun-Kwon, the founder and CEO of caffébene believes "trust' and 'faith' are the most important keys to his success of business. He is already planning a second location on the West Coast and planning to open 100 outlets in the States in a year. For more information, please visit http://www.Thecaffebene.com
# # #