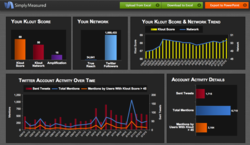 For businesses growing their investment in social media, influence is top of mind in 2012
Seattle and San Francisco (PRWEB) February 15, 2012
Simply Measured, a social media analytics company that offers easy to use Excel-to-web reporting, has teamed up with Klout, the standard for influence, to launch a new reporting suite for brands. The collaboration between these two companies helps brands leverage Klout's data in context with other social media metrics and easily measure how influencers impact social media programs.
"For businesses growing their investment in social media, influence is top of mind in 2012. We've had a flood of requests from brands asking for more detailed reporting in this area. With Klout's industry leading data and scoring methodology, we are now able to provide customers with the coverage, depth, and reporting needed to understand influence," said Simply Measured CEO, Adam Schoenfeld. "These new reports bring Klout data to everything from audience analysis to competitive benchmarking and brand monitoring."
"Klout is the standard for influence and we're focused on bringing this standard to consumers and brands alike," said Klout CEO Joe Fernandez. "This partnership helps brands understand and act on Klout metrics through Simply Measured's easy to use reporting tools."
Availability:
To get a taste of these tools, you can create a free Klout Audience Report that lets you analyze your Twitter followers, rank them by Klout score, and measure topical influence.
All Klout reports will be available immediately for Simply Measured customers at no additional cost, along with the full suite of social media analytics and reporting.
About Simply Measured:
Simply Measured makes it easy to get social media data and create beautiful reports in Excel and online. Simply Measured is unlike any other analytics tool you have seen in the past. Rather than a rigid web dashboard, we give you complete control of all your social media data in Excel. No more compiling data from disparate sources and spending hours trying to make sense of it. Simply Measured aggregates data from over a dozen sources into one place with over 20 beautiful reports that you can analyze in Excel, share on the web, and publish to PowerPoint.
Simply Measured tools are trusted by more than 25,000 users, over 500 customers, and 20% of the top 75 global brands. Learn more at http://simplymeasured.com or by following @simplymeasured on Twitter.
About Klout:
Klout is the standard for influence. Founded in 2008, we analyze engagement across social networks to measure your level and topics of influence. Based on this data, we create a Klout Score on a scale from 1-100 that unlocks new opportunities and insights for you. On http://www.klout.com, you'll find daily metrics that show how much you influence others and on what topics, and who is most influential in the topics you care about most. Through Klout Perks, top brands such as Disney, Audi, Turner, Microsoft and Chili's offer early access to products and experiences based on your ability to influence others about their brand.
###