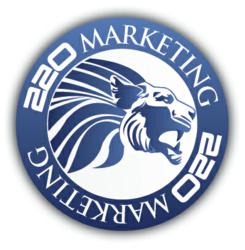 My business was steady, but was stuck at the same level. After 3 months of utilizing the 220 system, I have seen a 35% increase in my gross revenues.
San Diego, CA (PRWEB) February 15, 2012
220 Marketing has done it again. After more than 5 successful years helping Mortgage and Real Estate professionals grow their businesses, 220 is now offering their services to Insurance agents and agencies nationwide. 220's goal is to provide insurance professionals all the necessary tools and coaching needed to ensure they are taking full advantage of the internet.
According to Trevor Niarchos, 220 Group LLC's CEO & Co-Founder, "We are very excited to be able to offer our services to Insurance professionals. We are taking all the ideas that made our system successful in the Mortgage and Real Estate industries and we are now helping insurance agents take their businesses to the next level. It feels good to help a new group of professionals exceed their goals. 220 Marketing is in the business of creating success stories."
220 Marketing's new insurance marketing platform is specifically designed to support all the aspects of a successful insurance business. 220's system includes a lead generating website that also supports referral marketing to both past clients and other business professionals. The 220 system also offers insurance professionals the options of an integrated e-newsletter and email blasting capabilities.
The real difference maker in 220's Insurance Marketing system is the unlimited marketing consulting that all 220 clients have access to after the sale. 220 offers a genuine partnership approach to ensure their clients' ROI. 220's team of marketing experts work one-on-one with every client to tailor a plan designed to achieve the client's business objectives.
220 Marketing has already been conducting soft launch of their services into the insurance industry. One of the first professionals to take advantage of the 220 Insurance Marketing System is Vic Prichard, the owner of Direct Insurance Today. Mr. Prichard credits 220 with helping him to significantly grow his business. "My business was steady, but was stuck at the same level. After 3 months of utilizing the 220 system, I have seen a 35% increase in my gross revenues." Mr. Prichard went on to state," I decided to join the 220 family because of the multi-pronged marketing approach. It is more than just a highly customized website. It offers businesses like mine effective ways to drive traffic to the site and to stay in touch with a database of clients. The #1 most important aspect of my business is connecting with people, and 220 Marketing has helped me tremendously with that objective."
###