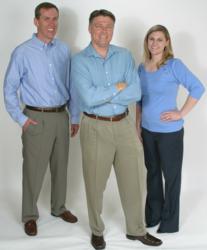 As a leading professional real estate brokerage in Northern Virginia, it's important to provide the best environment for our teams so that they can better serve their clients
Ashburn, VA (PRWEB) February 16, 2012
RE/MAX Select Properties, a Northern Virginia Real Estate Company announces that Mike Severin and The Ashburn Team including Michelle Palomo and Joe Fissmer, have joined their Ashburn office as the newest members of this dynamic office. Severin, who left RE/MAX Select Properties several years ago and has since returned, brings to the office over ten years of experience in real estate and was formerly with Keller Williams of Ashburn.
"As a leading professional real estate brokerage in Northern Virginia, it's important to provide the best environment for our teams so that they can better serve their clients," said Broker/Co-Owner Jim Stakem. He went on to say, "RE/MAX Select Properties has a deep understanding of the local market as a result of serving the community since 1987. Additionally, We have always maintained a forward outlook on the most up to date technology and training."
Some of the advantages offered by the company are Google Apps for Business, an Online Digital Processing System, One-on-One Mentoring with the Broker, National/Local Advertising, RE/MAX Mainstreet, an extranet that allows its agents to share referrals, marketing techniques and the latest information about technology. "Ongoing education is a strong priority at RE/MAX," said Broker/Co-Owner Phyllis Stakem. "No other real estate organization has a higher percentage of Affiliates with advanced, professional designations."
RE/MAX Select Properties has more than 50 Associates serving Loudoun County. To see a list of all RE/MAX Select Properties listings, to find a real estate professional and for more information on their fundraising efforts visit http://www.myselectproperties.com or follow us on Facebook and Twitter.
About RE/MAX Select Properties, Inc.
RE/MAX Select Properties was founded in 1987 in Sterling, Virginia by Jim and Phyllis Stakem. It has grown to a network of over 50 Sales Associates in three offices throughout Loudoun County, VA. RE/MAX Select Properties has the highest per agent annual production of any real estate franchise in the Northern Virginia Area.on
RE/MAX is proud to help raise money and support charitable organizations like, Susan G. Komen Race for the Cure, Children's Miracle Network and The Loudoun Interfaith Relief.
###