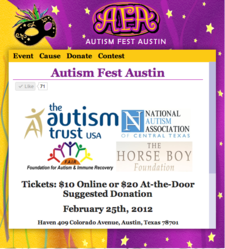 Austin, Texas (PRWEB) February 15, 2012
Join three Austin non-profit organizations on February 25, 2012 for the first annual Austin Fest Austin Conference and Mardi Gras Festival to benefit The Autism Trust USA. Educational programming and fun family activities are planned for the morning sessions followed by a variety of evening films and local musical artists.
Funds raised will directly support The Autism Trust USA's We Can Thrive project, providing opportunities to help gifted young adults form relationships, solve problems, handle conflict and increase self-esteem.
"This is our opportunity to educate and share with the Austin community valuable information about this epidemic affecting approximately one in 110 children in the United States," said Heidi Carabine, conference planner, founder of sponsoring non-profit Families for Autism & Immune Recovery (F.A.I.R) and mother to a sixteen-year-old with Asperger's syndrome. "Our goal is to raise awareness and $10,000 to help this important cause."
Actor Beth Broderick will join the event as one of many featured guests. Broderick is known for her role in the hit television show "Sabrina, the Teenage Witch" (1996-2002) and recent blockbuster film "Fly Away" (2011), the touching story of a single mother and her autistic teenage daughter, which will be screened at the event.
Leading Autism researcher Dr. Andrew Wakefield will speak as part of the morning panel discussion about current developments in the field.
A detailed line up of events and guests include:

Panelist Dr. Andrew Wakefield, Autism Researcher
Panelist Dr. Kelle Wood Rich: "Applied Behavior Analysis"
Panelist Brad Mason, LPC, Social Skills Specialist
Panelist Dr. Mary Ann Block: "Autism/ADD, A Protocol for Success"
Panelist Dr. Gus Kotsanis, Autism Specialist
Film screening, "Fly Away" with introduction from actor Beth Broderick
Film screening "Horse Boy" with introduction from Rupert Isaacson
Families will enjoy entertainment from magician Robert Tarry, a gluten-free cookie-making workshop, balloon animals, a visit from Silly Sparkles the clown, arts, crafts and more. Food and drink will be available throughout the day for sample and purchase. Starting at 5:30 p.m., adults will hear from local musical artists Rebecca Moreland Band, The Pons, Cody Coppin and The Great Nostalgic. Join Three Olives Vodka from 7-8 p.m. along with the Three Olive Vodka girls who will sample their newest flavor, Loopy.
"Without the help of community members and non-profit organizations around the nation, significant burdens may increase on society as a whole," said Carabine. "This cause is way too big and we need to create positive, cooperative alliances that meet the needs of this crisis. I'm thrilled to join together with other Austin non-profit organizations to support this cause that has become an epidemic in America."
The first annual Autism Fest Austin takes place on Feb. 25 from 10 a.m. to 10 p.m. at Haven, located at 409 Colorado St., in downtown Austin, Texas. Tickets may be purchased through the AFA Facebook Page for a suggested donation of $10 or $20 if purchased at the door.
Autism Fest Austin is the first annual conference and benefit sponsored by The Austin Trust USA, The National Autism Association of Central Texas and Families for Austin & Immune Recovery (F.A.I.R) who are dedicated to providing education, research, resources and support for children, adults and families affected by Autism Spectrum Disorders.
# # #