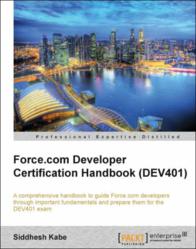 Birmingham, UK (PRWEB) February 16, 2012
Packt Publishing is pleased to announce the publication of Force.com Developer Certification Handbook (DEV401), a new book and ebook aimed at helping professionals prepare for the DEV 401 Certification exam.
Written by Siddhesh Kabe this practical guide will help the reader discover fundamentals for building applications on Force.com without writing a single line of code. It will help the reader to create and manage custom objects , build the user interface for various applications, and automate the business process by using workflows and approvals.
This book will enable the user to create and manage custom objects and their data and deploy a complete application on Force.com by using point and click. It highlights details on building scalable cloud-based applications for multiple users and automating complex business processes using workflows and approvals.
Some of the principal chapters emphasized in this book are:
Table of Contents
Chapter 1: Getting Started with Force.com
Chapter 2: Creating a Database on Force.com
Chapter 3: User Interface
Chapter 4: Implementing Business Logic
Chapter 5: Data Management
Chapter 6: Analytics and Reporting
Chapter 7: Application Administration
Chapter 8: Exam Guide and Practice Paper
Force.com is a cloud-based platform that is used to build and deploy enterprise applications on the cloud with minimum coding. Demand for Force.com experts is growing rapidly and companies look for certified professionals. This book comes in handy when you are seeking to clear the Salesforce.com Certified Force.com Developer exam.
Packt Publishing has also released:

Salesforce CRM: The Definitive Admin Handbook
Google Apps: Mastering Integration and Customization
Microsoft Silverlight 5 and Windows Azure Enterprise Integration
Microsoft Windows Azure Development Cookbook
Packt Enterprise is a publishing division of Packt Publishing created to serve the information needs of IT Professionals in the Enterprise space. Packt Enterprise also publishes on Microsoft, IBM, Oracle, Citrix, Java, Amazon, Google and SAP technologies.
###