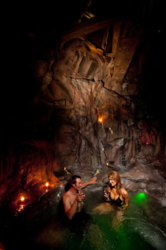 The inviting little log cabins of yesteryear have given way to modern masterpieces, and none as extraordinary as Castlewood
Denver, Colorado (PRWEB) February 15, 2012
Gondola Resorts, the distinguished vacation rental company of choice for ski resort lodging in Colorado, has announced the official rental launch of an extraordinary Telluride vacation home named "Castlewood". The sprawling home, located in the Mountain Village region of Telluride, Colorado, expands the company's platform for luxury vacation rentals in the area.
Castlewood is a Telluride ski-in ski-out property located on the Double Cabins ski run in Mountain Village. This 19th century western-style mansion is over 17,000 square feet, and it has 2,000 square feet of deck space, a stone grotto hot tub, a waterfall and a dipping tub. It also sits on an acre on the top of a knoll, and it has mountain views of the San Sophia ridgeline. There are four bedroom suites, a loft, and a flex-room with a queen-sized Murphy bed in the main home, as well as a dining room large enough to seat 14, and a huge great room with 360 degree views. Ten bedrooms, and 13 bathrooms, a guesthouse connected to the main house, and a separate Coachmen's house provide accommodations for up to 35 guests.
"As we aggressively pursue national prominence in the vacation rental lodging industry, it is imperative that we establish a strong brand identity for Gondola Resorts. In order to do that, we will continue to build our luxury portfolio of rental homes so that our new and returning guests have the absolute best assortment of rentals, like Castlewood," said Gondola Resorts Founder and General Manager Gino Malara.
Castlewood's initial construction started in the early 1900's to a local merchant. As there family grew and business expanded, a Guest House was built to accommodate the long visits from family and business partners. As the settlers became more and more prosperous, the original home became the Coachman's Quarters upstairs, and the first floor was converted to accommodate the horses and coaches.
During construction, and unexpected discovery revealed a natural hot spring on the property. To protect their valuable secret, the springs were enclosed within the Guest House, yet left mostly in their natural state with exposed rock combined with a finished grotto. They have served to comfit and soothe weary travelers for decades, and are rumored to have healing properties. Guests can take advantage of the grotto in this private and exclusive setting.
"The inviting little log cabins of yesteryear have given way to modern masterpieces, and none as extraordinary as Castlewood", says Malara. "Certainly, Castlewood is a storybook castle in a fairytale setting. Whether you choose winter or summer, the in vogue accommodations and cachet settings are evident to live on in the memories of our Castlewood guests."
Consumer can book Castlewood and other Telluride vacation rental homes by calling Gondola Resorts office directly. Rates for the home start at $4400 per night with holiday rates topping-out at $13,500 per night with at least a 4-night stay.
About Gondola Resorts, Inc.
Gondola Resorts is committed to excellence, offering a wide selection of vacation rental homes and condos at some of the most desirable locations in Colorado, Utah and Florida. Visit http://www.gondolaresorts.com to locate Gondola Resorts' locations and vacation rental listings.
###