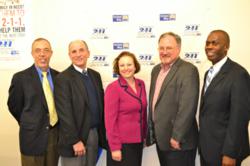 Westchester, NY (PRWEB) February 17, 2012
On 2/11, United Way rallied supporters nationwide to raise awareness that vital health and human services assistance is just a call or click away via 2-1-1 or http://www.hudson211.org. Utilizing Facebook, Twitter, emails and phone calls, organizers marked the anniversary of National 2-1-1 Day by making sure people in need know where to turn for help.
United Way leaders from across the Hudson Valley Region also called on Gov. Andrew Cuomo to add critical funding for the 2-1-1 helpline, which lost state support in 2008 and since then has been entirely funded through the United Way, public donations, and county support.
"Every day people are in need and aren't sure where to find answers," said Pat Anderson Hudson Valley's 2-1-1 Outreach and Emergency Management Director. "Whether it be with tax assistance or a national emergency, 2-1-1 is available 12 hours a day, 365 days a year to get people the help they need as quickly as possible."
Launched in 2005, 2-1-1 is a free, confidential helpline that provides millions of people each year with health and human services information, referrals, crisis support and disaster recovery information. Now that tax season is here, trained call center specialists are also answering hundreds of tax inquiries each week and setting up appointments for people to get free tax preparation assistance throughout the region.
In honor of National 2-1-1 Day, elected officials and community leaders gathered at United Way's 2-1-1 Hudson Valley Call Center to reinforce the message that 2-1-1 is a critical resource when it comes to connecting people to the services they need.
State Assemblyman Bob Castelli, Westchester County's Deputy County Executive Kevin Pluckett, Deputy County Executive for Health and Human Services Ken Crannell, Westchester County Legislator Judy Myers, Pattern for Progress Executive Director Jonathan Drapkin and other community leaders joined the United Way's 2-1-1 Hudson Valley Call Center staff to recognize the following individuals for their efforts in connecting people to United Way's 2-1-1:

Art Snyder, Ulster County Emergency Management & Communications Director, partnered with 2-1-1 to provide real time disaster related services during Hurricane Irene to Ulster County residents.
Richard Martinkovic, Sullivan County Commissioner of Public Safety, and Alex Rau, Sullivan County E911 Coordinator, partnered with 2-1-1 to provide real time disaster related services during Hurricane Irene to Sullivan County residents.
Jane Brown, Executive Director of Childcare Resources of Rockland, partnered with 2-1-1 to make sure individuals and families find safe and affordable childcare.
Jean H. Hansen, Aging Services Specialist, Orange County Office for the Aging, helped 2-1-1 provide advocacy services for seniors.
Elizabeth Spira, Chief Executive Officer, Dutchess County Community Action Partnership, is a critical resource for 2-1-1 to refer low-income residents on their journey toward becoming self-sufficient.
Kevin McGuire, Commissioner of Westchester County DSS, and Carol Hardesty, Executive Director of Family Ties of Westchester, Inc., for a unique collaboration with 2-1-1 to recruit and pre-screen new foster homes for vulnerable children in Westchester.
Barbara Kaiser, AARP District Coordinator, Colleen Mooney, AARP Partnership Specialist, and Hudson Valley Federal Credit Union for partnering with 2-1-1 to streamline the appointment process for all Putnam AARP tax preparation and offering a new location for tax preparation to hundreds of Putnam residents.
United Way's 2-1-1 helpline of the Hudson Valley region is a collaborative effort of the United Ways of Dutchess, Orange, Putnam, Rockland, Sullivan, Ulster and Westchester counties, and community and government partners. In 2011, more than 63,000 calls were made to the Hudson Valley 2-1-1 helpline and 105,000 web searches were made at http://www.hudson211.org.
In 2011, the Hudson Valley 2-1-1 Call Center serviced several other New York areas including Long Island, Northeast Region and the Adirondacks/North Country. The total service area now includes more than 6 million people. It was first launched in September 2005 and quickly assisted with the aftermath of Hurricane Katrina for residents in the Hudson Valley and is now part of a network of regional 2-1-1 call centers that covers 93% of New York State.
For more information about 2-1-1 visit http://www.hudson211.org or call 2-1-1 from any type of telephone to speak with a professionally trained, paid call specialists from 8 a.m. – 8 p.m., 7 days a week.
About United Way 2-1-1
United Way's 2-1-1 helpline has offered health and human services information, referrals, assessments and crisis support to everyone in the Hudson Valley since September 2005. Callers and searchers of http://www.hudson211.org find the assistance they need to address everyday challenges of living as well as those that develop during times of disaster and other community emergencies. 2-1-1 is a confidential, multilingual, comprehensive service that has enabled government and nonprofit agencies to realize concrete cost savings.
###