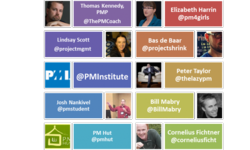 We are seeing more and more conversations around project management in social media as well as a trend to fast adoption of online project management applications by businesses of all sizes
Barcelona, Spain (PRWEB) February 16, 2012
GetApp.com, the largest independent online marketplace for business apps has researched where project management conversations take place on the social web and who are the top project management social media influencers.
GetApp.com decided to carry out this research after spotting a growing interest from small businesses about online project management tools.
From this research they concluded that over 80% of the project management related discussions were taking place on Twitter, followed by YouTube with 5% and FaceBook with only 4%.
GetApp.com searched a long list of influential experts, authors, teachers, coaches, consultants, IT professionals, organizations and bloggers contributing to this growing trend. With tools such as Brandwatch, PeerIndex and Klout they have ranked the ten most important people in terms of influence, number of mentions and activity.
The top 10 Project Management Influencers on Social Media are:
#1 Lindsay Scott @projectmgmt
Director of Project Management Recruitment business – Arras People.
#2 Project Management Institute @PMInstitute
PMI is the leading membership association for the project management profession.
#3 Cornelius Fichtner@corneliusficht
Project manager, PMP trainer, host of The PM Podcast.
#4 Josh Nankivel @pmstudent
Offering Project Management Career and PMP Study Advice.
#5 PM Hut @pmhut
Project Management Articles
#6 Elizabeth Harrin @pm4girls
Computer Weekly IT Professional Blogger of the Year 2011, author of Social Media for Project Managers, business writer, Director of @otobosgroup
#7 Bas De Baar @projectshrink
Fascinated by globalization, our digital world, identity and collaboration.
#8 Peter Taylor @thelazypm
Lazy but oh so productive: Speaker/Author/Project Manager
#9 Bill Mabry @BillMabry
Expert in Project and Program Management. Founder of High-End PM.
#10 Thomas Kennedy, PMP @ThePMCoach
PMP certified project manager connecting with others that are passionate about project management.
"Project management is becoming a mainstream topic among a growing number of people and organizations," said Christophe Primault, CEO, GetApp.com." No wonder that we are seeing more and more conversations around this topic in social media as well as a trend of fast adoption of online project management applications by businesses of all sizes."
About GetApp.com
GetApp.com is a free online marketplace to help small to mid-sized businesses (SMBs) easily discover and evaluate the right applications for their business. They are supported in their discovery with a recommendation tool, product reviews, comparison tables and apps evaluation resources such as white papers to help choose the right solutions.
In addition, GetApp.com serves as a global online marketing channel for the ever-growing numbers of business application developers.
Headquartered in Barcelona Spain, GetApp.com operates primarily in North America and the U.K. It is privately owned and backed by Nauta Capital.
###