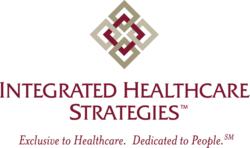 Because of a need to share costs and shrinking reimbursements for care while meeting patient safety standards, nearly all hospitals are trying to integrate physicians more fully into their operations.
(PRWEB) February 16, 2012
Integrated Healthcare Strategies, a national consulting firm dedicated exclusively to healthcare and focused on improving the operations of healthcare organizations, today announced its latest addition to enhance its Physician Governance and Operations Consulting services. The firm, with offices in Kansas City, Minneapolis, and Dallas, recently hired physician practice management and healthcare industry professional, Rob Lenio.
"Hospitals and healthcare organizations are under pressure to develop effective and lasting strategies for managing and integrating physician providers into the healthcare organization, which also presses the need for developing physician leaders," said Bob Erra, President of Integrated Healthcare Strategies.
William Jessee, MD, FACMPE, Senior Vice President and Senior Advisor with the firm and former MGMA president, agrees. "Healthcare reform won't only change a hospital's operations and finances, but because of a need to share costs and shrinking reimbursements for care while meeting patient safety standards, nearly all hospitals are trying to integrate physicians more fully into their operations."
Physician Practice Operations and Interim Management solutions offered by the firm help clients analyze all levels of practice operations including financials, staffing, efficiencies, inefficiencies, contracts, and more - providing solutions to help them run more effectively.
In addition, the firm provides Physician Resource Planning services in response to the now required Community Health Needs Assessment (CHNA). Used to project the local and/or regional needs for healthcare resources, healthcare organizations can use a CHNA to facilitate strategic and business planning efforts; develop strategies toward physician-hospital alignment; differentiate clinical service offerings from competitors; and identify allied health practitioner needs.
"As demand for physician-related strategies increases, we continue to enhance our services with best-in-industry experts," said Chad Stutelberg, Executive Vice President and Leader of the Physician Services service line of Integrated Healthcare Strategies. "Rob Lenio comes to us with a successful background managing all aspects of physician practice operations."
Mr. Lenio will focus on practice operations, physician compensation compliance audits, and the design and implementation of compensation plans. In addition, Mr. Lenio specializes in fair market value reviews of employment, medical directors, professional services, and management service agreements. His practice management background supports a strong capability for analyzing financials and operations across all physician specialties.
Prior to joining Integrated Healthcare Strategies, Mr. Lenio oversaw multi-specialty ambulatory clinics for a large integrated healthcare system where he focused on operational performance, EMR implementation, process improvement, labor management, and enhancement of patient, physician, and staff satisfaction. Mr. Lenio received a Bachelors degree in Healthcare Administration from the University of Wisconsin - Eau Claire, and a Master's degree in Healthcare Administration from the University of Minnesota.
About Integrated Healthcare Strategies
Integrated Healthcare Strategies provides healthcare organizations with direct access to a comprehensive array of healthcare-specific services, delivered by professionals from the industry who understand the rigors of running a healthcare organization – from the lunchroom to the Board Room. Its client list is a "who's who" of healthcare organizations including over 1,200 major healthcare providers, 1,800 hospitals and 700 independent and affiliated medical groups. Integrated Healthcare Strategies specializes in the areas of physician strategy and compensation, employee compensation, executive compensation, human resource solutions, labor relations, leadership transition planning, executive search, compensation and employee engagement surveys, performance management, board governance solutions, and M&A transition issues.
For additional information contact Julie McCauley at 800-327-9335 or at julie.mccauley(at)IHStrategies(dot)com. Visit Integrated Healthcare Strategies online at http://www.IHStrategies.com, or view our blog at http://ihstrategiesblog.com
###